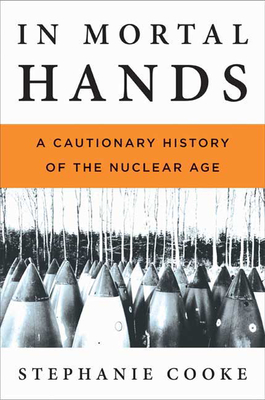 In Mortal Hands (Hardcover)
A Cautionary History of the Nuclear Age
Bloomsbury USA, 9781596916173, 496pp.
Publication Date: April 28, 2009
Other Editions of This Title:
Paperback (9/14/2010)
* Individual store prices may vary.
Description
From the Manhattan Project to the present energy crisis and what it means for our future, a sweeping chronicle of our recurring failure to manage the power of the atom.
This provocative history of nuclear power is perfectly timed for today, when Americans are gravely concerned with nuclear terrorism, and a nuclear renaissance is seen as a possible solution to global warming. Few have truly come to terms with the complexities of an issue which may determine the future of the planet. Nuclear weapons, it was once hoped, would bring wars to an end; instead, they spurred a massive arms race that has recently expanded to include North Korea and I ran. Once seen as a source of unlimited electricity, nuclear reactors breed contamination and have been used as covers for secret weapons programs, from I ndia and Pakistan to Iraq and Iran.
The evolving story of nuclear power, as told by industry insider Stephanie Cooke, reveals the gradual deepening of our understanding of the pros and cons of this controversial energy source. Drawing on her unprecedented access, Cooke shows us how, time and again, the stewards of the nuclear age the more-is-better military commanders and civilian nuclear boosters have fallen into the traps of their own hubris and wishful thinking as they tried to manage the unmanageable. T heir mistakes are on the verge of being repeated again, which is why this book deserves especially close attention now.
About the Author
Stephanie Cooke has covered the nuclear industry for almost thirty years. She is currently an editor of Uranium Intelligence Weekly, and a contributor to the Bulletin of Atomic Scientists.
Praise For In Mortal Hands: A Cautionary History of the Nuclear Age…
"Diligent history of nuclear proliferation and peaceful nuclear energy makes a good case that they are intimately connected and equally out of control… Skillful, unsettling arguments that the world is headed toward nuclear disaster from two different directions." –Kirkus
"This thought-provoking history of the intertwined development of nuclear weapons and nuclear power is told deftly through the stories of some major and minor participants who the author came to know as a journalist. As the title suggests, the subtext is the question of whether fallible humanity is up to managing this technology wisely. This is much the best treatment of the question that I have seen."--
Frank von Hippel, Professor of Public and International Affairs and Director of the Center for Science and Global Security, Woodrow Wilson School at Princeton University
"In Stephanie Cooke's hands, our complex and often shadowy nuclear history is refined into a compelling, accessible and important narrative. With the assurance of a veteran industry observer, Cooke shows us just how fallible nuclear technology and nuclear policy have been—and dismantles the myth that nuclear energy is merely misunderstood. In Mortal Hands is essential reading for anyone who thinks nuclear energy is the slam-dunk answer for our energy and climate problems." --Paul Roberts, author of The End of Oil
"In Mortal Hands is an imperative read. Because politicians, industrial leaders and scientists mixed and confused the issues of nuclear weapons and nuclear power the door was opened to unmitigated disaster as country after country verges on nuclear power development and inevitable access to nuclear weapons. Pandora's box has been opened but will the collective human psyche develop the wisdom to close the box? This question will readily be answered if millions of people decide to read In Mortal Hands." --Helen Caldicott, author of Nuclear Power is Not the Answer and The New Nuclear Danger
"In Mortal Hands charts the intertwined and interdependent paths of the global civil and military nuclear enterprises. It compellingly shows how inherent human frailties create 'ambiguity, secrecy, power, and greed' that consistently and unavoidably turn both efforts' promise into peril. Fortunately, better ways to provide both security and energy—efficiency and micropower (already providing over half the world's new electrical services) and a "new strategic triad" of conflict prevention, conflict resolution, and nonprovocative defense—can meet all the same needs better, sooner, and more attractively, wherever they're allowed to compete. This chronicle of the distressing nuclear history that many citizens and leaders never learned, or have lately forgotten, should motivate us all to demand those wider choices now, before it's forever too late." --Amory B. Lovins, Chairman and Chief Scientist, Rocky Mountain Institute
"In Mortal Hands spans the sixty years of the nuclear age, telling the complicated and fascinating story of the way nuclear energy and nuclear weapons have been interconnected like a double helix over time. The story is well told by someone with an insider's knowledge of the nuclear industry who knows and appreciates the concerns over safety and security that have always dogged the advocates of nuclear power. For those in the new American administration who must deal with the pressures to find alternatives to fossil fuels, lessen dependence on foreign sources of energy, and reduce the risks of nuclear proliferation, Cooke's book is a fine primer." --Robert L Gallucci, Former Ambassador at Large in the Clinton Administration and Dean of the School of the Foreign Service, Georgetown University
"In Mortal Hands should be read by all interested in nuclear issues and the history of the development of nuclear power. Politicians, journalists and academics will find it a most useful addition to their libraries. Readers that do not normally read books about nuclear energy will enjoy this very readable book. It will equip them to participate in the coming debate about the use of nuclear power as an energy source which many political leaders are advocating as a way of limiting global warming." --Frank Barnaby, Past Director of SIPRI, Stockholm International Peace Research Institute
or
Not Currently Available for Direct Purchase