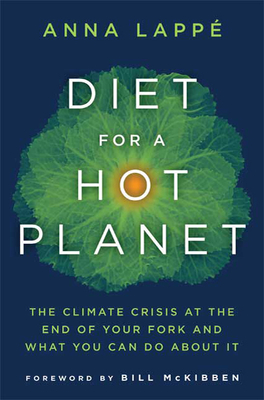 Diet for a Hot Planet
The Climate Crisis at the End of Your Fork and What You Can Do about It
Hardcover

* Individual store prices may vary.
Other Editions of This Title:
Paperback (4/4/2011)
Description
Beyond what we already know about food miles and eating locally, the global food system is a major contributor to climate change, producing as much as one-third of greenhouse gas emissions. How we farm, what we eat, and how our food gets to the table all have an impact. And our government and the food industry are willfully ignoring the issue rather than addressing it.
In Anna Lapp 's controversial new book, she predicts that unless we radically shift the trends of what food we're eating and how we're producing it, food system-related greenhouse gas emissions will go up and up and up. She exposes the interests that will resist the change, and the spin food companies will generate to avoid system-wide reform. And she offers a vision of a future in which our food system does more good than harm, with six principles for a climate friendly diet as well as visits to farmers who are demonstrating the potential of sustainable farming. In this measured and intelligent call to action, Lapp helps readers understand that food can be a powerful starting point for solutions to global environmental problems.
Praise For Diet for a Hot Planet: The Climate Crisis at the End of Your Fork and What You Can Do about It…
One of Booklist's Top 10 Food Books of 2010
One of Kirkus Reviews' Best Books of 2010
"Accessibly written, rationally argued and focused on action over rhetoric, the book will interest parents, foodies, economists, committed vegetarians, moral omnivores, environmentalists, health enthusiasts and anyone interested in actually doing something about climate change while government responses stagnate. An essential toolkit for readers looking for a pragmatic climate-response action plan of their own."—Kirkus
"Responsibly researched and cogently articulated… an impeccable, informative, and inspiring contribution to the quest for environmental reform."—Booklist (starred)
"As Anna Lappé reveals in this important book, we must be conscious of what we eat – not only for our own health, but for the health of the planet.  When it comes to climate change, junk food may prove even more destructive than S.U.V.s. Lappé's message is timely and empowering.  Instead of waiting for politicians to do the right thing, we can make simple changes to our diet, enjoy it, and help change the world." —Eric Schlosser, author of Fast Food Nation and Reefer Madness
"Nothing is more important than connecting the way we eat to global warming.  After all, food is an everyday need for everyone.  Anna Lappé shows us that eating with intention is our responsibility and our pleasure." —Alice Waters, founder and proprietor of Chez Panisse and author of The Art of Simple Food
"Anna Lappé's Diet for a Hot Planet does for the present generation what her mother's Diet for a Small Planet did for the last: empower us to think in a new way about how food affects our own health as well as that of the planet. Her inspiring book makes it clear that food choices matter to climate change and that each of us, voting with our forks, can make a real difference in ensuring a more sustainable food system.  I want all my students to read this powerful book."—Marion Nestle, Professor of Nutrition, Food Studies, and Public Health at New York University, and author of What to Eat
"In this tour-de-force, Anna Lappé provides readable, lively, and much-needed answers to a question that all too few of us understand: how does our food affect the planet? By guiding us with a sure hand through the fog of claims and counterclaims around climate change and agriculture, she inoculates us from the corporate lies that stand between us and a just, sustainable, and delicious food system." —Raj Patel, author of The Value of Nothing and Stuffed and Starved
"Anna Lappé hits this hot topic straight on and she has a cool real food solution."—Nina Planck, author of Real Food
Bloomsbury USA, 9781596916593, 336pp.
Publication Date: March 30, 2010
or
Not Currently Available for Direct Purchase