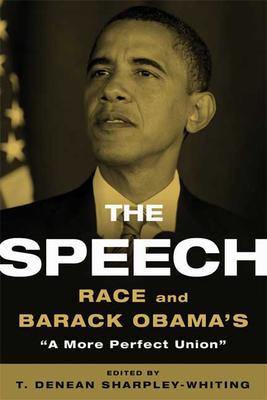 The Speech: Race and Barack Obama's "A More Perfect Union" (Paperback)
Race and Barack Obama's "A More Perfect Union"
Bloomsbury Publishing PLC, 9781596916678, 272pp.
Publication Date: August 18, 2009
* Individual store prices may vary.
or
Not Currently Available for Direct Purchase
Description
After Senator Barack Obama delivered his celebrated speech, "A More Perfect Union," on March 18, 2008, "New" "York" "Times" columnist Maureen Dowd noted that only Barack Obama "could alchemize a nuanced 40-minute speech on race into must-see YouTube viewing for 20-year-olds." Pundits established the speech's historical eminence with comparisons to Abraham Lincoln's "A House Divided" and Martin Luther King Jr's "I Have a Dream." The future president had addressed one of the biggest issues facing his campaign and our country with an eloquence and honesty rarely before heard on a national stage.
"The Speech" brings together a distinguished lineup of writers and thinkers among them Adam Mansbach, Alice Randall, Connie Schultz, and William Julius Wilson in a multifaceted exploration of Obama's address. Their original essays examine every aspect of the speech literary, political, social, and cultural" "and are punctuated by "Boston Globe "columnist Derrick Z. Jackson's reportage on the issue of race in the now historic 2008 campaign. "The Speech" memorializes and gives full due to a speech that propelled Obama toward the White House, and prompted a nation to evaluate our imperfect but hopeful union.
About the Author
T. Denean Sharpley-Whiting is the director of Vanderbilt University's Program in African American and Diaspora Studies and the W. T. Bandy Center for Baudelaire and Modern French Studies. She is the author of four books, including the award-winning Pimps Up, Ho's Down, and the editor or coeditor of five others, most recently The Norton Anthology of Theory and Criticism.
Praise For The Speech: Race and Barack Obama's "A More Perfect Union"…
"[The Speech] offers answers that are a lot more complex than the unvarnished praise Obama's oration has gotten so far…A rich landscape of opinion on the state of race and Obama's singular relationship to it. Last year, we simply couldn't see these arguments in the heat of the campaign; now they're coming into focus." -- Los Angeles Times
"The time is right for [this] reconsideration... If we are to take the idea of a national racial discussion seriously, then it's especially urgent for a general readership to encounter eye-opening arguments like theologian Obery M. Hendricks Jr.'s articulate defense of the Rev. Jeremiah Wright... The book's tour de force is language scholar Geneva Smitherman's brilliant close reading of Obama's rhetoric, cadence and tone with reference to the "Black jeremiad tradition." She establishes the speech as a unique expression of Obama's biracial, bicultural identity, grounded in Aristotelian rhetoric and touching deep cultural nerves with both white and black audiences." - Salon, Critic's Pick
Advertisement