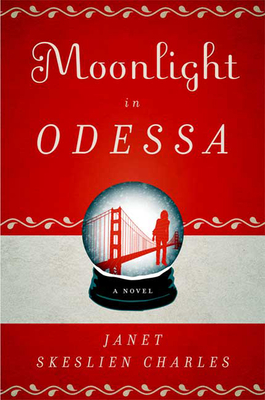 Moonlight in Odessa (Hardcover)
Bloomsbury USA, 9781596916722, 352pp.
Publication Date: September 1, 2009
* Individual store prices may vary.
or
Not Currently Available for Direct Purchase
Description
"A Short History of Tractors in Ukrainian "meets "Desperate Housewives "in this exploration of the booming business of Russian e-mail-order brides, an industry where love and marriage collide with sex and commerce.
Odessa, Ukraine, is the humor capital of the former Soviet Union, but in an upside-down world where waiters earn more than doctors and Odessans depend on the Mafia for basics like phone service and medical supplies, no one is laughing. After months of job hunting, Daria, a young engineer, finds a plum position at a foreign firm as a secretary. But every plum has a pit. In this case, it's Mr. Harmon, who makes it clear that sleeping with him is job one. Daria evades Harmon's advances by recruiting her neighbor, the slippery Olga, to be his mistress. But soon Olga sets her sights on Daria's job.
Daria begins to moonlight as an interpreter at Soviet Unions(TM), a matchmaking agency that organizes "socials" where lonely American men can meet desperate Odessan women. Her grandmother wants Daria to leave Ukraine for good and pushes her to marry one of the men she meets, but Daria already has feelings for a local. She must choose between her world and America, between Vlad, a sexy, irresponsible mobster, and Tristan, a teacher nearly twice her age. Daria chooses security and America. Only it's not exactly what she thought it would be
A wry, tender, and darkly funny look at marriage, the desires we don't acknowledge, and the aftermath of communism, "Moonlight in Odessa "is a novel about the choices and sacrifices that people make in the pursuit of love and stability.
About the Author
Originally from Montana, Janet Skeslien Charles lives in Paris, where she leads writing workshops at the Left Bank bookshop Shakespeare & Company. Moonlight in Odessa was inspired by her two years as a Soros Fellow in Odessa. This is her debut novel.
Praise For Moonlight in Odessa…
"[A] spirited debut… Charles' transatlantic saga explores the dichotomy between Eastern and Western cultures, as well as the assumptions and sacrifices people make in the hope of a better life." —Booklist
"Charles paints a tender, bittersweet portrait of Ukraine and Odessa.... A lively, entertaining debut—chick lit with edge." —Kirkus Reviews
"This darkly humorous debut explores the world of eastern European mail-order brides and the men who finance them... The endearing and forthright Daria is the perfect guide through the trickery and sincerity of chaotic courtships and short-order love... The teetering dance between humor and heartbreak burns through this tale that takes place at the intersection of love and money, East and West, male and female." —
Publishers Weekly
"Charles's first novel vividly contrasts life in Odessa, a city whose citizens are impoverished and sometimes prejudiced but nevertheless proud, with the materialism and isolation of life in America." —
Library Journal
"In her debut novel, Janet Skeslien Charles pulls off a couple of feats. First, the Montana native manages to write convincingly like a Ukrainian who's tackling the English language. Perhaps more impressively, she crams fascinating cultural and historical information into what might otherwise be merely a diverting beach romance. It's like sneaking vitamins into a chocolate shake... this could be a gooey and overwrought story, but Daria's sharp humor and keen insights into human nature make her a winning narrator. In fact, all of the characters are well-drawn, complex and interesting... It all goes to show that the romantic beach-read formula needn't be silly, or even formulaic; in the right hands, it can be instructive."
—Bookpage
"In a comically touching travelogue through the international romantic wasteland, Janet Skeslien Charles brings you Daria, a part-time electronic matchmaker who is only one set of dentures short of gorgeous. A heroine for the twenty-first century Ukraine—or as close to the twenty-first century as you can get in the Ukraine—she's street-smart enough to outwit several flawed suitors but can't fend off the lure of the American dream as she fails to recognize the one unwavering global truism: Sometimes people aren't entirely honest on the Internet." —Dave Boling, author of Guernica
"This is a delicious novel - wise, witty, wonderfully written – and its narrator, street-smart, tender-hearted Daria K, a pleasure to spend time with. If I ever get to Odessa, I hope Daria will be there to show me around." —Vivian Gornick, author of Fierce Attachments and The Men in My Life
Advertisement