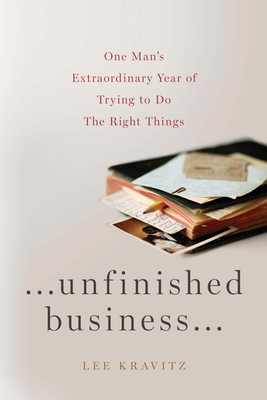 Unfinished Business
One Man's Extraordinary Year of Trying to Do the Right Things
Hardcover

* Individual store prices may vary.
Other Editions of This Title:
Digital Audiobook (5/10/2010)
Paperback (5/31/2011)
MP3 CD (5/11/2010)
Compact Disc (5/11/2010)
Compact Disc (5/11/2010)
Description
After losing his job, Lee Kravitz, a workaholic in his midfifties, took stock of his life and realized just how disconnected he had become from the people who mattered most to him. He committed an entire year to reconnecting with them and making amends.
Kravitz takes readers on ten transformational journeys, among them repaying a thirty-year-old debt, making a long-overdue condolence call, finding an abandoned relative, and fulfilling a forgotten promise. Along the way, we meet a cast of wonderful characters and travel the globe--to a refugee camp in Kenya, a monastery in California, the desert of southern Iran, a Little League game in upstate New York, and a bar in Kravitz's native Cleveland. In each instance, the act of reaching out opens new paths for both personal and spiritual growth. All of us have unfinished business--the things we should have done but just let slip. Kravitz's story reveals that the things we've avoided are exactly those that have the power to transform, enrich, enlarge, and even complete us. The lesson of the book is one applicable to us all: Be mindful of what is most important, and act on it. The rewards will be immediate and lasting.
Praise For Unfinished Business: One Man's Extraordinary Year of Trying to Do the Right Things…
"[Kravitz] has written an achingly candid account of following through on the Unfinished Business of a life in which, like many of us, he was always too busy to do the human things that matter the most." - Gail Sheehy, USA Today
"[Kravitz's] journeys take him all over the world, helping him put into perspective what truly matters in his life. He teaches readers to appreciate what they have and to tackle any unfinished business they may have themselves. He does what so many people wish they could do and inspires others to take a step back and see what is missing in their life."  —Baltimore Jewish News
"Kravitz is a thoughtful writer, and his memoir reveals a delicate personal journey."      —Publishers Weekly
"Kravitz writes with an inspiring sincerity. His experiences are so familiar that it would be hard for readers not to reflect on their own unfinished business — and want to tend to it."  —Denver Post
"When Lee Kravitz lost his job as editor-in-chief of Parade magazine, he decided to spend a year connecting all the dots his busy working life had left emotionally adrift, reaching out to grasp the hands and hearts of family members, friends, and mentors he had left behind. His adventures in outreach are moving, and quietly inspiring." —Barnes & Noble Review
"This book will strike a chord with those of us who feel we've left some things behind in the relentless pursuit of work and careers. What better time than summer vacation when our bodies have left the office, but our minds may still be there, than to read this book and think about our own unfinished business."  —The Republican
"He was one of the many; he lost his job. But what he did next might be a bit distinctive. Instead of setting out to get a new job, he took a year to set some things straight, things that had been neglected during his years steadfastly dedicated to his profession. His unfinished business led him on ten journeys of redemption, including repaying long-overdue debts, keeping promises, and reaching out to a distant friend. The stuff that life should be made of - re-thinking, redoing, reliving."  —UrbanBaby
"Kravitz writes with an inspiring sincerity. His experiences are so familiar that it would be hard for readers not to reflect on their own unfinished business -- and want to tend to it."  —Washington Post
"Kravitz presents an honest looks at himself as a workaholic who, jarred from his routine when fired from his job, decides to spend a year mending fractured relationships and catching up on forgotten promises.  A lively read.  In the often-obnoxious realm of the feel-good memoir, this one stands out as a rare success."—Jew-ish.com
"A candid account of how a person takes all the things he always meant to do and transforms them into meaningful learning experiences." —J., The Jewish News Weekly of Northern California
"Inspirational but never preachy, Kravitz's memoir reminds us of what really matters … and shows us how to begin searching for, and finding it."—Hudson Valley News
"When award-winning journalist Lee Kravitz is laid off from his job, he realizes he has spent most of his life working too hard. He uses this life-changing moment as an opportunity to take stock of his life. Unfinished Business takes readers on 10 transformational journeys in which Kravitz reconnects with those dear to him and makes amends. The lesson to be shared: 'Be mindful of what is most important, and act on it. The rewards will be immediate and lasting.'"—Cleveland Jewish News
"Kravitz sets out on a mission, devoting a year to completing the unfinished business in his life, including making amends to the people he has hurt. Self-effacing, self-aware, he embarks on a journey in which he reconnects with a schizophrenic aunt neglected by their family, forgives a high school nemesis and honors a forgotten promise to an underprivileged African boy. What could have turned into a self-congratulatory, Disneyesque odyssey becomes an occasion for real kindnesses and growing sensitivity." —Time
"A fascinating read, and an example of how anyone's life can be interesting."—Jen A. Miller, Book a Week with Jen blog
 "[Kravitz's] journeys…are truthful, generous and worthwhile.  Through his experiences, he found meaning, an acceptance of life's absurdity and the insight that so much comes down to attitude and keeping the many threads of life thrumming."—Kirkus Reviews
"Lee Kravitz's illuminating and uplifting midlife memoir, Unfinished Business, is the perfect antidote to those middle-of-the-night sweats, when we toss and turn and torture ourselves with endless shoulda-coulda-wouldas. Achingly candid, this beautifully written and touchingly personal chronicle traces the author's year-long journey of searching for the pieces he left behind, and how it led him to finding his better self. Kravitz has written a triumphant love letter to the human condition."—Marlo Thomas, author of The Right Words at the Right Time
"Unfinished Business is not just the story of how and why and when Lee Kravitz decided to tie up his loose ends, although all that is here. It's also about the extraordinary and unexpected events that unfold in his life and others' once he states the intention to pursue completion and becomes determines to see it through. This is an uplifting and truly life-affirming book."—Hope Edelman, author of The Possibility of Everything
"Everyone complains about not having enough time—but what happens when we get it? Lee Kravitz used losing his job as a springboard to the human things he should have done. In so doing, he turned bad into bountiful. A great lesson for us all."—Mitch Albom, author of Have A Little Faith
"Unfinished Business is a rich, wise and powerful work that reminds us to be ever mindful of that which is truly important. By taking honest and courageous stock of his own unfinished business, Lee Kravitz calls on us all to live lives that honor our best selves. It is a timely and inspiring book."—Dave Isay, founder of StoryCorps
"Lee Kravitz has written the perfect memoir for our time. He turns a personal setback into a sweeping affirmation of life, family, and resilience. Unfinished Business will surprise you with its nuance and amaze you with its grace and have you reaching out to someone you love."—Bruce Feiler, author of Walking the Bible
Bloomsbury USA, 9781596916753, 224pp.
Publication Date: May 11, 2010
About the Author
Lee Kravitz was Editor-in-Chief of PARADE, the Sunday newspaper magazine, from 2000-2007. Before that he was the Founding Editor of REACT, a magazine for teens, and served as an Editorial Director of Scholastic Inc. As a journalist, Kravitz has traveled on assignment to dozens of countries. His mission as a writer and editor has been to tell stories that connect emotionally to everyday Americans, moving them to actions that improve their lives, nation and world. Kravitz is president of Youth Communication, a publisher of writing by and for inner-city teens and youth in foster care. He is also active on the boards of the Public Education Network and The League: Powered by Learning to Give. A graduate of Yale College and the Columbia University Journalism School, he lives in New York City and Clinton Corners, New York, with his wife and three children.
Why does the author embark on his year-long project? What does he hope to accomplish by tying up his life's loose ends? 
The author lists several reasons why he lets important matters slide:  not enough time or energy, his tendency to procrastinate, his fear of doing the wrong thing. What are some of the reasons that you accumulate unfinished business?
The author writes that his family is the source of his "most intimate and anxiety-producing" unfinished business. Do you think that's true for most people? Is it true for you? 
The author goes on ten journeys to close circles or make amends. Which of his journeys — for example, paying back a debt, finding a long-lost relative, thanking an old teacher — resonated most with you? Why? 
If you had one year to tie up your loose emotional ends, how would you spend it? What items would be at the top of your list of unfinished business? 
Shahid believes that it's important to address your unfinished business because "we need to make an accounting of these things before we die, so that our souls can rest." Akmal says, "It's not about resting in peace. It's about moving forward. It's about optimizing your human potential." Who in your opinion is right? 
Think of all the people you cared about who have passed away. Did any of them die without knowing what they had meant to you? If you had one more conversation with those people, what would you say to them? 
The author says that he wants to live "a more connected life?" What does he mean by that phrase? Rate your own life. On a scale of 1 to 10, how rich is it in terms of human connectedness? 
Mr. Jarvis challenges his students by saying: "After you die, what would you like people to say about you? Your answer to that question should guide the way you live." What would you like people to say about you after you die? 
Has this book given you a perspective on your life that you find useful? What ideas are you likely to take away or apply from it? Can you think of any steps you can take in your own life to keep yourself from accumulating unfinished business?
Coverage from NPR
or
Not Currently Available for Direct Purchase