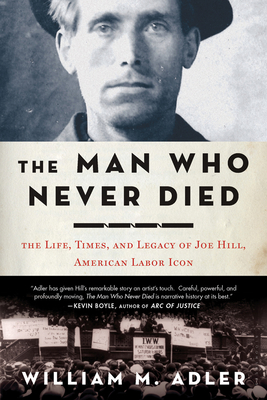 The Man Who Never Died
The Life, Times, and Legacy of Joe Hill, American Labor Icon
Hardcover

* Individual store prices may vary.
Other Editions of This Title:
Paperback (8/21/2012)
Description
In 1914, Joe Hill was convicted of murder in Utah and sentenced to death by firing squad, igniting international controversy. Many believed Hill was innocent, condemned for his association with the Industrial Workers of the World -- the radical Wobblies. Now, following four years of intensive investigation, William M. Adler gives us the first full-scale biography of Joe Hill, and presents never before published documentary evidence that comes as close as one can to definitively exonerating him.
Joe Hill's gripping tale is set against a brief but electrifying moment in American history, between the century's turn and World War I, when the call for industrial unionism struck a deep chord among disenfranchised workers; when class warfare raged and capitalism was on the run. Hill was the union's preeminent songwriter, and in death, he became organized labor's most venerated martyr, celebrated by Woody Guthrie and Bob Dylan, and immortalized in the ballad I Dreamed I Saw Joe Hill Last Night.

The Man Who Never Died
does justice to Joe Hill's extraordinary life and its controversial end. Drawing on extensive new evidence, Adler deconstructs the case against his subject and argues convincingly for the guilt of another man. Reading like a murder mystery, and set against the background of the raw, turn-of-the-century West, this essential American story will make news and expose the roots of critical contemporary issues.
Praise For The Man Who Never Died: The Life, Times, and Legacy of Joe Hill, American Labor Icon…
"Exhaustively researched. The story of Joe Hill is popular among Western and labor historians, but The Man Who Never Died may be the best biography of the lot. An absorbing narrative." - Denver Post "Intriguing... a fast-paced chronicle of a life that would have gone unsung if not for Hill's martyrdom in the wake of a mockery of a trial." - Chicago Tribune "Finally. A real Joe Hill biography. Asks all the right questions, digs deep for the answers and reads like a true crime drama à la David Simon." —Steve Earle, singer-songwriter, author of I'll Never Get Out of This World Alive "Adler meticulously examines the legal proceedings and makes a powerful case that Hill was railroaded by prosecutors intent on destroying him fro his association with  the hated Wobblies. Adler even finds new evidence that strongly supports Hill's alibi. Though HIll died young, Adler shows that his sardonic, resilient voice of political protest lived, leaving a powerful influence on folk singers such as Woody Guthrie, Pete Seeger, and Boby Dylan." - Boston Globe "Joe Hill is a mythic, martyred figure in the history of American radicalism, part-labor organizer, part-songster. Bill Adler has done a fine job of rediscovering the man as well as the legend." —
Sean Wilentz, Sidney and Ruth Lapidus Professor of History at Princeton University, author of Bob Dylan in America "Adler's biography breaks new ground on Hill's life and the trial that made him a left-wing icon. In its detail and range, [his] book easily surpasses previous biographies of Hill." - Post and Courier (Charleston, SC) "Adler has produced a fully realized picture of [Hill], but also a gripping detective story that comes close to exonerating [him]." - Salt Lake Tribune "'I have lived like an artist,' Joe Hill liked to say, 'and I shall die like an artist.'  Now William Adler has given Hill's remarkable story with an artist's touch.  Careful, powerful, and profoundly moving, The Man Who Never Died is narrative history at its best." —Kevin Boyle, National Book Award-winning author of Arc of Justice: A Saga of Race, Civil Rights, and Murder in the Jazz Age  "William Adler, an investigative historian, delivers a controversial verdict... Mr. Adler concludes that Hill came to believe that he was worth far more to his cause as a symbol than as an individual. His rousing last words show him to be a man mindful of his legacy: 'Don't waste time in mourning. Organize!'" —Economist "Well-researched revelations about the union martyr and prolific protest songwriter... Adler reveals the man beneath the myth, detailing the life that spawned the legend." —Kirkus Reviews "[A] fascinating and groundbreaking biography... [Adler has] used the life of Hill to provide a sweeping portrait of militant labor activism in the period leading up to World War I." - Brooklyn Rail "[Adler] writes beautifully about the life and legacy of Hill. Those who love history, a little bit of mystery and a beautifully written story that tugs at the heartstrings should enjoy The Man Who Never Died." - Deseret News  "A readable and informative history of the political, cultural, labor and religious undercurrents of life in Utah and, by extension, the U.S." - New York Journal of Books "Well-researched and tightly woven... Adler produces the most complete account yet of Joe Hill's life." - UAW.org "Highly recommended. Appropriate for students and lay readers, this biography is an easy read, provides necessary historical context, and may successfully revive Hill in American popular consciousness." - Library Journal
"Adler tells the story with rare intelligence and verve." - Newcity Lit "Adler delves into the case's evidence, motives and lack thereof with the spirit of a private investigator, smoothly combined with the detachment of an historian and the passion of an activist. A multi-layered whodunnit." - In These Times "We are indebted to an author who pursues historical research with a persistence that brings to mind Ahab chasing the White Whale. Readers of The Man Who Never Died will find themselves immersed in and transfixed by the places and events of the American West a century ago.  With this book, William M. Adler offers an extraordinary opportunity to think hard about legal injustice, economic inequity, martyrdom, honor, and the limited power of mortality to silence the past." —Patricia Nelson Limerick, Center of the American West, University of Colorado, author of The Legacy of Conquest  "A very readable biography... Adler shows himself to be a prodigious researcher." - Washington Times "Excellent… Adler's prose is first rate, his analysis of history impeccable. He draws conclusions where appropriate, and presents an honest account, yet allows the reader to put together the final pieces of the puzzle."—Union Review "With journalistic brilliance and political passion, Bill Adler evokes and analyzes an era, a cause and a martyr whose execution still resonates through history.  Blending murder mystery with Movement history, he creates a gripping drama that is not only convincingly documented, but so well written that it's a palpable pleasure to read.  Almost 100 years after Joe Hill's trial and death, Adler not only "dreams (he) saw Joe Hill last night," he makes a forceful, eloquent and convincing case for Hill's innocence.  Whether you believe his argument is right or wrong, he has finally given Joe Hill the fair trial and clear verdict he deserves." —Si Kahn, organizer, songwriter, author of the musical play Joe Hill's Last Will
"By giving the stories he heard from his fellow workers back to them in songs, Joe Hill inspired untold thousands to stand—and sing—in solidarity against the worst industrial and political abuses of his day. As Bill Adler makes clear in this richly told biography, Hill's moral clarity and his fearless criticism of injustice can and should be the music of our times as well." —Bob King, president, United Auto Workers
"The Man Who Never Died reminds us that it took a people's movement to create America's middle class, and that people must get moving pronto ¬ for the bosses, bankers, BS-ers, and bastards are going all out to kill it. Adler gives us an epic of investigative reporting and narrative history that will lift you up and, once again, put the 'move' in movement. Don't mourn, read this book, get out of the La-Z-Boy, and join the action."—Jim Hightower, populist agitator and editor of the "Hightower Lowdown"
"I was delighted to discover that Adler's scrupulously researched and annotated book is also a page-turner. He's a wonderful writer - allowing Joe Hill to be as vivid and larger-than-life as I'm certain he was." — Anne Feeney, labor singer
Bloomsbury Publishing PLC, 9781596916968, 435pp.
Publication Date: August 30, 2011
About the Author
William M. Adler is a freelance writer who has contributed to numerous publications, including Esquire, Rolling Stone, Mother Jones, Texas Monthly, and the Texas Observer. He is the author of Land of Opportunity, about the rise and fall of a crack cocaine empire, and Mollie's Job, following the flight of one woman's factory job from the U.S. to Mexico. Adler lives with his wife and son in Denver, Colorado.
or
Not Currently Available for Direct Purchase