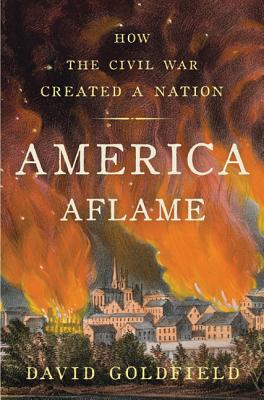 America Aflame: How the Civil War Created a Nation (Hardcover)
How the Civil War Created a Nation
Bloomsbury Publishing PLC, 9781596917026, 640pp.
Publication Date: March 15, 2011
* Individual store prices may vary.
or
Not Currently Available for Direct Purchase
Description
In this spellbinding new history, David Goldfield offers the first major new interpretation of the Civil War era since James M. McPherson's Battle Cry of Freedom. Where past scholars have limned the war as a triumph of freedom, Goldfield sees it as America's greatest failure: the result of a breakdown caused by the infusion of evangelical religion into the public sphere. As the Second GreatAwakening surged through America, political questions became matters of good and evil to be fought to the death.
The price of that failure was horrific, but the carnage accomplished what statesmen could not: It made the United States one nation and eliminated slavery as a divisive force in the Union. The victorious North became synonymous with America as a land of innovation and industrialization, whose teeming cities offered squalor and opportunity in equal measure. Religion was supplanted by science and a gospel of progress, and the South was left behind.
Goldfield's panoramic narrative, sweeping from the 1840s to the end of Reconstruction, is studded with memorable details and luminaries such as HarrietBeecher Stowe, Frederick Douglass, and Walt Whitman. There are lesser known yet equally compelling characters, too, including Carl Schurz-a German immigrant, warhero, and postwar reformer-and Alexander Stephens, the urbane and intellectual vice president of the Confederacy. America Aflame is a vivid portrait of the "fiery trial"that transformed the country we live in.
David Goldfield is the Robert Lee Bailey Professor of History at the University of North Carolina, Charlotte. He is the author of many works on Southern history, including Still Fighting the Civil War; Black, White, and Southern; and Promised Land.
About the Author
David Goldfield is the Robert Lee Bailey Professor of History at the University of North Carolina, Charlotte. He is the author of many works and textbooks on Southern history, including Still Fighting the Civil War, Southern Histories, Black, White and Southern, and Promised Land.
Praise For America Aflame: How the Civil War Created a Nation…
"Riveting, often heartbreaking…[a] masterly synthesis of political, social, economic and religious history… Goldfield's thought experiment in alternative history is provocative in the best sense.  Most history books try to explain the past.  The exceptional ones, of which America Aflame is a distinguished example, remind us that the past is ultimately as inscrutable as the future."—Andrew Delbanco, New York Times Book Review  "A riveting, comprehensive, and delightful piece of historical writing.  [Goldfield] is a wonderful storyteller with a facile, compact prose style that transforms complex historical ingredients into a savory meal."—Christian Science Monitor
"
America Aflame
turns over nearly virgin historical soil.  Even those who have studied the Civil War for decades will likely gain new insights from the book as it details how religion and grossly incompetent politicians provided the tinder and spark that ignited the conflict."
—Charlottesville Daily Progress
 "A detailed and scholarly examination. … Goldfield's look at the causes and effects of the Civil War takes us one step closer to heeding the warning of George Santayana: 'Those who cannot remember the past are condemned to repeat it.'  Here, in this masterful work, endeth the lesson."
—Roanoke Times
 "Unique …brilliantly executed in a distinctive style."
—BookPage
"Goldfield's retelling the familiar yields new meanings that cut the human heart in new, unscarred places … a fascinating argument"
—Willamette Week
"It has become a commonplace among historians to say we live in Lincoln's nation; his combination of nationalism with the ideal of civil equality is accepted even by political elites in the South. But as Goldfield reminds us, the violent polarities introduced into American society by slavery, and by the war that the Southern defense of this peculiar institution provoked, have endured as well."
—Austin American-Statesman
 "Fascinating…In his comprehensive chronicle of the tumultuous pre-through-postwar era, David Goldfield, who has as sharp and engaging a way with a thumbnail sketch as he does with rethinking history, demonstrates how evangelical religion's influence was central to that fateful debate."
—American History magazine
"A sweeping, insightful and articulate new look at the war and the country it transformed."
—Dallas Morning News
"A monumental new appraisal of the war." —Los Angeles Times
"Fascinating … meticulously researched, passionately argued."
—Salon
 "An amazing piece of historical scholarship. Although there have been a million books produced about the Civil War, I dare you to find one as engaging and readable as this one."
—Portland Book Review
"An exemplary cultural study. The author offers an intriguing new perspective on what he convincingly argues to be not only the defining event of 1800s America, but the defining event of our nation's entire political and cultural history…[his] examination of the intensity of individual religious thought and religiously informed social activity in the camps provides readers a new comprehension of this extraordinary war. Goldfield writes with veteran grace."
—Kirkus Reviews (starred review)
"[Goldfield] presents a superb, stylishly written historical synthesis that insightfully foregrounds ideology, faith, and public mood…an ambitious, engrossing interpretation with new things to say about a much-studied conflagration."
—Publishers Weekly
(starred review)
"A provocatively written, scrupulously researched, and well-framed consideration of evangelical religion's questionable role in the antebellum, Civil War, and Reconstruction periods of our history. An important book as the war's sesquicentennial approaches."
—Library Journal (starred review)
"It is [Goldfield's] emphasis on the religious angle that readers may find distinctive among Civil War overviews."
—Booklist
 "The sheer volume of work Goldfield arranges constitutes a staggering undertaking, and yet this narration flows easily from the earliest religious and political conflicts to its bloody conclusion.  Goldfield arms his work with a plethora of minute details that time and distance have all but erased."—
Sacramento Book Review
 "
America Aflame
immediately invites comparison with classic works ranging from James Ford Rhodes to James McPherson…A most timely offering as the country enters the sesquicentennial of its great national trauma."—
Virginia Magazine of History & Biography
"This provocative new look at the era of Civil War and Reconstruction places evangelical religion at center stage. Northern evangelicals branded slavery a sin; southern theologians portrayed it as a positive good ordained by God. Political questions became a moral battle between good and evil. The author argues that postwar economic growth in the victorious North and grinding poverty in the South transformed the cultural force of religion into a conservation rationalization of the status quo, rather than its former role as an instrument of change."
—James M. McPherson, author of Battle Cry of Freedom and Tried by War: Abraham Lincoln as Commander in Chief
"Readers who wonder if there's really much left to say about the Civil War and its impact on America will find their doubts evaporating only a few pages into this remarkable book. Although there is plenty of new information here, David Goldfield's greatest contribution may lie in showing us new ways to understand what we already know. Undaunted by the complexity and contentiousness of his subject, Goldfield has only embellished his stellar credentials as a both writer and scholar in this concise yet sweeping treatment in which narrative and analysis flow so seamlessly that we are always engaged and often engrossed."
—James C. Cobb, author of Away Down South: A History of Southern Identity
"In
America Aflame
, distinguished historian David Goldfield turns an unflinching eye on a—if not the—central event in American history. The resulting narrative goes far toward correcting the popular tendency to romanticize the Civil War. Few histories of the war make its meaning and impact so central to their narratives."
—Gaines M. Foster, author of Ghosts of the Confederacy and Moral Reconstruction.
"This masterful synthesis of the Civil War is a stunning achievement. With fresh perspective and inspiring, often provocative ideas, Goldfield challenges some of the old narratives of sectional conflict, war, and Reconstruction. His examination of disparate, even divergent ways of thinking in the nineteenth century is brilliant, especially his exploration of the power of evangelical religion before and its diminished authority after the Civil War. A rich and vivid work,
America Aflame
is an extraordinary contribution to the historical understanding of our most defining war."
—Orville Vernon Burton, author of The Age of Lincoln
"Here is an extremely thoughtful, persuasively argued, beautifully written, and highly original look at the Civil War and its impact on the nation—both in the short and long term. This book should stir much healthy debate, challenging us to reconsider the fundamentals of the war we think we know so well."
—Harold Holzer, author of Lincoln President-Elect  
Advertisement