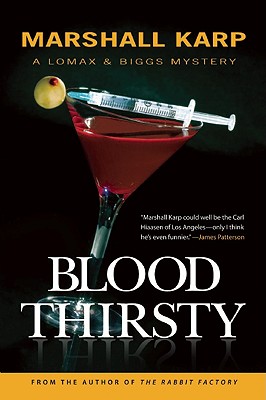 Blood Thirsty (Hardcover)
MacAdam Cage, 9781596922099, 425pp.
Publication Date: May 14, 2007
Other Editions of This Title:
Paperback (6/1/2008)
Paperback (2/23/2009)
* Individual store prices may vary.
Description
It's a bloodthirsty town, Hollywood. No matter how popular you are, there's always someone who d be happier if you were dead. And in some cases, you can be such a bastard, "everyone" would be happier if you were dead.
Barry Gerber, one of the most hated men in Hollywood, is a no-show for a red carpet event. The next morning he turns up dead, killed in such a bizarre way that neither Detectives Mike Lomax nor Terry Biggs nor anyone in Forensics has ever seen anything like it before. Two days later, the prime suspect another despised show-business bad boy is found murdered in the same sadistic manner.
The list of suspects then becomes as long as the credits in a summer blockbuster. Everyone hated the murdered men. Biggs jokes that this could be an elaborate public service effort to make Hollywood a better place to live and work. But he and Lomax soon find that all jokes are off as they wade through a daunting number of leads to uncover who will be the next victim. What they stumble upon is a motive far more primal than they had ever imagined.
Fast-paced, razor-sharp, and intensely funny, "Bloodthirsty" reunites Lomax and Biggs the mystery genre's new dynamic duo.
About the Author
An award-winning advertising executive, Marshall Karp has also written for stage, screen, and television. His play, "Squabbles," published by Samuel French, has been performed in more than 800 theaters around the world. He has been a writer, producer, and executive producer on TV shows for all the major networks. His first feature film, "Just Looking," directed by Jason Alexander, was released in 2000. Having spent time on both East and West Coasts, he now lives in upstate New York, where he is at work on the third title in his Lomax-Biggs mystery series.
Praise For Blood Thirsty…
Praise for Marshall Karp
"The comedy never overshadows this smart, many-layered thriller…Lomax, Biggs, and the FBI have their work cut out for them in a clever plot that will keep readers guessing to the very end. Enthusiastic readers will anxiously await the return of detectives Lomax and Biggs."
– Publishers Weekly (STARRED review)

"…brings to mind Robert B. Parker, Janet Evanovich, Dean Koontz, Stuart Woods and a lot of other fast-paced authors."
– Janet Maslin, New York Times Book Review

"…well written and easily digestible. I had a hard time putting it down, and not because I was in a hurry to see the crime solved, but because the writing is so well done. I'm hoping this is only the beginning of crime stories starring Lomax and Biggs."
– Flint Journal

"…as irreverently funny as it is ingeniously plotted…The Rabbit Factory is powered by the author's amazingly strong and insightful characterization. The detective duo of Lomax and Biggs make this novel an absolute delight to read…Prediction: Instant cult classic."
– Barnes & Noble's "Ransom Notes"
or
Not Currently Available for Direct Purchase