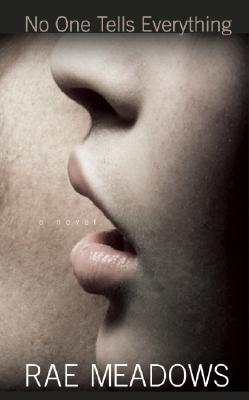 No One Tells Everything
Paperback

* Individual store prices may vary.
Other Editions of This Title:
Hardcover (7/22/2008)
Description
Up-and-coming author Meadows offers an addictive, absorbing novel with a lovable basket-case heroine who becomes obsessed with a murder case.

Praise For No One Tells Everything…
"…the story of a small-town murder that stirs complex memories and emotions in Grace…Meadows is clearly building a solid readership." – Poets & Writers
"Meadows is a confident and compelling prose stylist…more charged than even her debut." – The L Magazine
"No One Tells Everything is propelled forward by its plot, but never sacrifices insights about family relationships and honesty not always being the best policy."
 – Isthmus Books Quarterly
"Digging deep into her characters' tortured inner lives, author Rae Meadows beautifully exposes both Charles and Grace's cracked and twisted childhoods, her story steadily unfolding with a sense of the inevitable as two desperate people lost amid the thorny branches of life, zealously cling to each other, increasingly desperate to find their way." – Curledup.com
"[A] film noirish page turner…Hypnotic and beautifully rendered." – Caroline Leavitt, Dame Magazine
"A compelling, damaged heroine who might still have a chance for healing, Grace demonstrates that in researching another damaged soul's story, she has a chance to find—and save—herself." – BookReporter.com
"[An] enthralling portrait of a disturbed teenage boy and a woman captivated by the person she could have been—and fears she may already be. Meadows's characters are vivid, sympathetic, hopeful, and self-destructive—they're human—and she has a hawk's eye for the truly necessary detail and a family's emotional machinery." – Michelle Wildgen, author of You're Not You
"No One Tells Everything is a brave and moving novel. Presenting her struggling and overwhelmed characters in near-translucent prose, Rae Meadows makes a plea for the wounded humanity of all of us: the golden children and the loners, the murderers and the killed." – Martha Moody, author of Best Friends

"Haunting and absolutely compelling-an unflinching portrait of the great loneliness at the heart of our big American noise.  From the glitzy bars of Manhanttan to the donut shops of Long Island and the vacant suburbs of the Midwest, this novel tells us much of what we need to know about how we live today." – Lewis Buzbee, author of The Yellow-Lighted Bookshop  
"This is not a run-of-the-mill mystery for many reasons. But the amateur female sleuth and her deep meditations on family and home will no doubt find an audience."
 –
Library Journal
MacAdam/Cage Publishing, 9781596922945, 275pp.
Publication Date: June 1, 2008
or
Not Currently Available for Direct Purchase