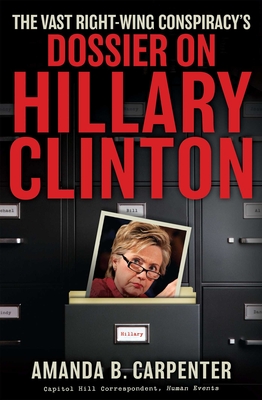 The Vast Right-Wing Conspiracy's Dossier on Hillary Rodham Clinton (Hardcover)
Regnery Publishing, 9781596980143, 307pp.
Publication Date: September 1, 2006
Description
She is the darling of the Manhattan elite, the hope of the national Democratic Party, the MVP of the pro-choice feminist movement, the rock star of the Hollywood Left, and the favorite of the liberal media.
Luckily, over here at the Vast Right-Wing Conspiracy, we've been keeping a file on her.
Written in the style and format of the New York Times bestseller The Official Handbook of the Vast Right-Wing Conspiracy, this expose is full of fresh reporting, devastating quotes, scandalous stories, funny sidebars, and forgotten but telling incidents from Hillary Clinton's past.
About the Author
Reporting for the VRWC, Amanda B. Carpenter roams Capitol Hill digging out the stories the mainstream media ignores, and delivering news-breaking scoops for Human Events, the national conservative weekly. A graduate of Ball State University and a champion debater, Carpenter lives in Washington, DC.
Advertisement