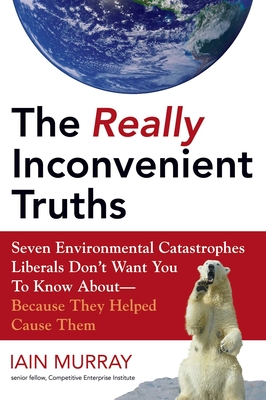 The Really Inconvenient Truths
Seven Environmental Catastrophes Liberals Don't Want You to Know About- Because They Helped Cause Them
Hardcover

* Individual store prices may vary.
Other Editions of This Title:
Digital Audiobook (6/12/2008)
MP3 CD (6/1/2008)
Compact Disc (2/1/2013)
Compact Disc (6/1/2008)
Description
Al Gore is bad for the planet...
Talk about really inconvenient truths--that's one of the many you'll find in Iain Murray's rollicking exposé of environmental blowhards who waste more energy, endanger more species, and actually kill more people (yes, that's right) than the environmental villains they finger. Did you know that estrogen from birth control and "morning after" pills is causing male fish across America to develop female sex organs? Funny how "pro-choice" and "environmentalist" liberals never talk about that. Or how about this: the Live Earth concert to "save the planet" released more CO2 into the atmosphere than a fleet of 2,000 Humvees emit in a year? We hear a lot about AIDS in Africa, but the number one killer of children in much of Africa is malaria--and guess who was responsible for banning the pesticide that used to have malaria under control? Iain Murray, a sprightly conservative environmental analyst with a long record of skewering liberal hypocrisy, has dug up seven of the all-time great environmental catastrophes caused by the Left and exposed them in The Really Inconvenient Truths. Murray lays bare:

* How ethanol, the liberals' favorite fuel, is destroying the world's rainforests--and could cause global food shortages
* How Al Gore's hero Rachel Carson cost the lives of millions of Africans through her efforts to ban DDT
* How the environmentalists have covered up the polluting effects of contraceptive and chemical abortion drugs
* How the Endangered Species Act actually endangers species
* How Gore's vision of greater state control over the economy has already produced some of the greatest environmental disasters in history

All of us want a planet with clean air and clean water, vibrant forests, healthy animal populations, and glorious open space. But liberal environmentalists aren't the ones to deliver it. In fact, they've made the planet worse, while old-fashioned property rights, unpopular hunters, and the innovative engine of capitalism have made it better. The facts are all here, in a book that Al Gore would rather burn than read.
Regnery Publishing, 9781596980549, 354pp.
Publication Date: April 1, 2008
About the Author
Iain Murray is Vice President for Strategy and senior fellow at the Competitive Enterprise Institute, a Washington, DC-based think tank that works to promote free markets and limited government. Murray also directs the Center for Economic Freedom at CEI. For the past fifteen years at CEI, Iain has written and lectured extensively on free markets and the environment, labor policy, finance, the EU, and trade. He tweets at @ismurray and is a Contributing Editor at Instapundit.com. Before coming to CEI, Iain was Director of Research at the Statistical Assessment Service. A
former civil servant in the United Kingdom, where he helped to privatize the railroad industry, Iain immigrated to the U.S. in 1997 and remains a British citizen. He holds a Master of Business Administration from the University of London and a Master of Arts from the University of Oxford. He is married with two children and lives in Northern Virginia. Iain is a long-suffering fan of the Washington Redskins, Sunderland AFC, and the England cricket team. He likes to brew his own beer and play board and table-top games with friends.
or
Not Currently Available for Direct Purchase