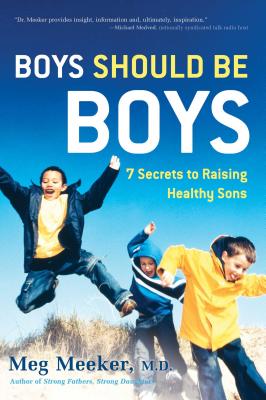 Boys Should Be Boys: 7 Secrets to Raising Healthy Sons (Hardcover)
7 Secrets to Raising Healthy Sons
Regnery Publishing, 9781596980570, 287pp.
Publication Date: April 29, 2008
Description
In Boys Should Be Boys, critically acclaimed author Dr. Meg Meeker helps parents restore the delights of boyhood and enable today's boys to become the mature, confident, and thoughtful men of tomorrow.
Boys will always be boys--rambunctious, adventurous, and curious, climbing trees, building forts, playing tackle football, all part of the rite of passage into manhood. But today our sons face an increasingly hostile world, one that doesn't value the spirited nature of boys. Meeker explores the secrets to boyhood to create an uplifting guide to make raising sons a little easier.

About the Author
MEG MEEKER, M.D., has spent nearly thirty years practicing pediatric and adolescent medicine and counseling teens and parents. Dr. Meeker is a fellow of the American Academy of Pediatrics and a fellow of the National Advisory Board of The Medical Institute. Dr. Meeker is a popular speaker on teen issues and is frequently heard on nationally syndicated radio and television programs. She lives and works in Traverse City, Michigan, where she shares a medical practice with her husband, Walter. They have four children.
Advertisement