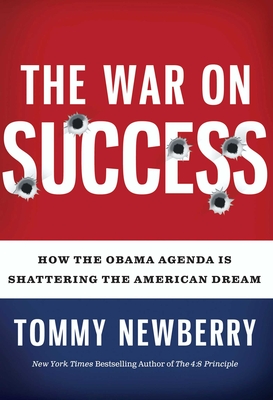 The War On Success
How the Obama Agenda Is Shattering the American Dream
Hardcover

* Individual store prices may vary.
Description
Higher Taxes…Nationalized Industries…Suffocating Regulation…

President Obama Has Declared War Against You

In The War on Success, New York Times bestselling author Tommy Newberry argues that the Obama administration is not only attacking entrepreneurs and small business owners, it's launched a fundamental assault on the very concept of success. By denigrating all the qualities that make success possible—self-reliance, ambition, hard work, the pursuit of excellence—the administration is setting the stage for Big Government to step in and "guarantee" everyone's success through socialist-style redistribution. Brash, direct, and unafraid, The War on Success tells you what's at stake: nothing less than the survival of the American Dream.
Praise For The War On Success: How the Obama Agenda Is Shattering the American Dream…
Praise for The War on Success

This powerful, fast-moving book will inform and infuriate you, opening your eyes to the danger of unrestrained government growth."
Brian Tracy, author of The 100 Absolutely Unbreakable Laws of Business Success

Today, people are starved for a positive perspective about success and the American Dream. The War on Success is not only that message, it is the truth. If you are not inspired to action by Tommy's words, you have already surrendered to the enemies of success. I have not surrendered."
Herman Cain, host of The New Herman Cain Show
Regnery Publishing, 9781596981188, 256pp.
Publication Date: January 11, 2010
About the Author
As a pioneer in the business and life-coaching field, Tommy Newberry has invested two decades helping entrepreneurs and their families maximize their full potential in The 1% Club. Known for his practical, no-nonsense style, Tommy is a staunch defender of individual liberties, traditional values, and free enterprise. He is the author of Success Is Not an Accident as well as the New York Times bestseller, The 4:8 Principle. Tommy and his wife have three children and live in Atlanta, Georgia.
or
Not Currently Available for Direct Purchase