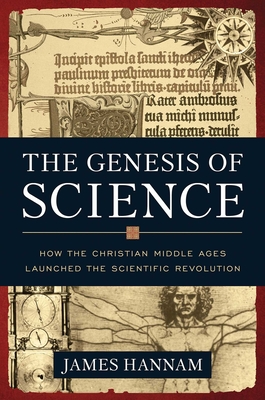 The Genesis of Science
How the Christian Middle Ages Launched the Scientific Revolution
Hardcover

* Individual store prices may vary.
Description
The Not-So-Dark Dark Ages

What they forgot to teach you in school:
People in the Middle Ages did not think the world was flat
The Inquisition never executed anyone because of their scientific ideologies
It was medieval scientific discoveries, including various methods, that made possible Western civilization's "Scientific Revolution"

As a physicist and historian of science James Hannam debunks myths of the Middle Ages in his brilliant book The Genesis of Science: How the Christian Middle Ages Launched the Scientific Revolution. Without the medieval scholars, there would be no modern science.

Discover the Dark Ages and their inventions, research methods, and what conclusions they actually made about the shape of the world.
Regnery Publishing, 9781596981553, 448pp.
Publication Date: March 22, 2011
About the Author
James Hannam took a Physics degree at Oxford before training as an accountant. He enjoyed a successful career in the City, mainly financing film production, but harboured ambitions to write about the history of science. In 2001, he started a part time MA at Birkbeck College, London in Historical Research. The experience only served to further whet his appetite for the subject. In 2003, he was accepted at Cambridge to do a PhD in the History and Philosophy of Science. His thesis on the decline of medieval learning during the sixteenth century was completed in 2008. In the meantime, he also worked on his book for the general reader, God's Philosophers: How the Medieval World Laid the Foundation of Modern Science which was published by Icon in 2009. It is published in the US as The Genesis of Science: How the Christian Middle Ages Launched the Scientific Revolution. The book was shortlisted for the Royal Society Prize for Science Books in 2010. James has also written for various magazines and newspapers including the Spectator, History Today, Standpoint and New Scientist. He lives in Kent, England with his wife and two children.