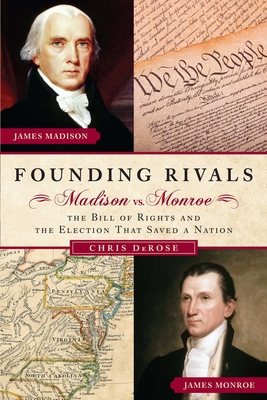 Founding Rivals
Madison vs. Monroe, The Bill of Rights, and The Election that Saved a Nation
Hardcover

* Individual store prices may vary.
Other Editions of This Title:
Digital Audiobook (4/22/2012)
MP3 CD (4/23/2012)
MP3 CD (4/23/2012)
Compact Disc (4/23/2012)
Paperback (3/30/2015)
Paperback (5/20/2013)
Compact Disc (4/23/2012)
Compact Disc (4/23/2012)
Description
The Amazing True Story of the Election That Saved the Constitution
In 1789, James Madison and James Monroe ran against each other for Congress—the only time that two future presidents have contested a congressional seat.
But what was at stake, as author Chris DeRose reveals in
Founding Rivals: Madison vs. Monroe, the Bill of Rights, and the Election That Saved a Nation
, was more than personal ambition. This was a race that determined the future of the Constitution, the Bill of Rights, the very definition of the United States of America.
Friends and political allies for most of their lives, Madison was the Constitution's principal author, Monroe one of its leading opponents. Monroe thought the Constitution gave the federal government too much power and failed to guarantee fundamental rights. Madison believed that without the Constitution, the United States would not survive.
It was the most important congressional race in American history, more important than all but a few presidential elections, and yet it is one that historians have virtually ignored. In
Founding Rivals
, DeRose, himself a political strategist who has fought campaigns in Madison and Monroe's district, relives the campaign, retraces the candidates' footsteps, and offers the first insightful, comprehensive history of this high-stakes political battle.
DeRose reveals:


How Madison's election ensured the passage of a Bill of Rights—and how
Monroe's election would have ensured its failure

How Madison came from behind to win a narrow victory (by a margin of only 336 votes) in a district gerrymandered against him

How the Bill of Rights emerged as a campaign promise to Virginia's evangelical Christians

Why Madison's defeat might have led to a new Constitutional Convention—and the breakup of the United States
Founding Rivals
tells the extraordinary, neglected story of two of America's most important Founding Fathers. Brought to life by unparalleled research, it is one of the most provocative books of American political history you will read this year.
Praise For Founding Rivals: Madison vs. Monroe, The Bill of Rights, and The Election that Saved a Nation…
Praise for Founding Rivals

Long before they fought the War of 1812 and planted the seeds of Manifest Destiny, James Madison and James Monroe fought each other over a seat in the First Congress. Their epic campaign—revolving around the size and scope of government, its taxing power, and a nation awash in debt—is America in microcosm. (It's also frighteningly relevant to our twenty-first-century democracy.) It is a fascinating story, told here by a gifted young historian, as promising as his protagonists. Thoroughly researched and gracefully written, Founding Rivals is narrative history of the most readable kind."
—Richard Norton Smith, author of Patriarch: George Washington and the New American Nation and founding director of the Abraham Lincoln Presidential Library and Museum

Compelling narrative throughout. . . . A lively, clear-cut study of the myriad hurdles and uncertainty that characterized the first attempts to form the U.S. government."
—Kirkus Reviews

An engaging account of the Republic's contentious founding."
—Publishers Weekly

Is there anyone in America who wouldn't want their next congressional election to feature a choice between James Madison and James Monroe? As Chris DeRose shows us in this fascinating new book, one lucky district, Virginia's 5th (which happens to be my own), got this lucky pick in 1789. Few single contests have ever been more important for the nation's future. Just like today, past elections were high-stakes affairs with enormous consequences. Unlike today, the big issues could once be argued on center stage between friends, in a spirit of unity and harmony."
—Profess or Larr y J. Sabato, director of the University of Virginia Center for Politics and author of A More Perfect Constitution
Regnery History, 9781596981928, 336pp.
Publication Date: November 14, 2011
About the Author
The list of Regnery authors reads like a "who's who" of conservative thought, action, and history.