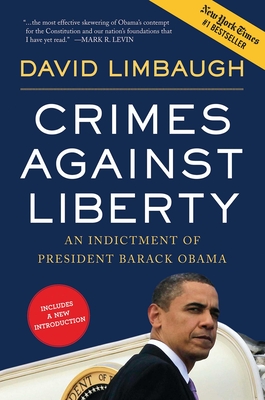 Crimes Against Liberty: An Indictment of President Barack Obama (Paperback)
An Indictment of President Barack Obama
Regnery Publishing, 9781596982758, 503pp.
Publication Date: August 29, 2011
Description
FROM THE NEW INTRODUCTION
Obama presents an image of a man wholly unfazed by the debt crisis. This leaves conservatives, and a growing number of independents, scratching their heads wondering how any president could so zealously obstruct the reforms necessary to save the nation. More and more Americans are wondering whether Obama is merely incompetent, or if he's following some kind of Machiavellian scheme to deliberately damage the nation's financial future.
. . . To assume Obama has the best interests of this nation at heart offers little comfort. For regardless of his ultimate motives, one thing is clear: he is pursuing an agenda that, unless reversed, will destroy the nation. The inescapable fact is that Obama is an incorrigible leftist ideologue who is unable to comprehend the glaring signs that his policies don't work.

About the Author
David Limbaugh is a lawyer, nationally syndicated columnist with Creators Syndicate, political commentator, and author of four New York Times bestsellers: Absolute Power, Persecution, Bankrupt, and Crimes Against Liberty. The brother of radio talk show host Rush Limbaugh, he lives in Cape Girardeau, Missouri, with his wife and children.
Advertisement