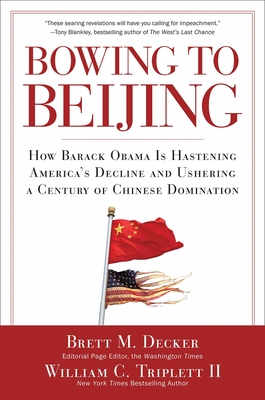 Bowing to Beijing: How Barack Obama Is Hastening America's Decline and Ushering a Century of Chinese Domination (Hardcover)
How Barack Obama Is Hastening America's Decline and Ushering a Century of Chinese Domination
Regnery Publishing, 9781596982895, 256pp.
Publication Date: November 14, 2011
Description
Flattery Won't Tame a Raging Dragon
While the Obama administration is mired in big-government "solutions" to "threats" such as global warming, unregulated businesses, and free-market healthcare, Obama officials have ignored and compounded the single biggest danger facing the United States: the rising power of communist China.
In
Bowing to Beijing
, Brett M. Decker and Bill Triplett cut through the fog of soothing, pro-China propaganda to reveal the disturbing truth: far from the gradually reforming "partner" portrayed by its many American apologists, China is an aggressive and rapidly militarizing criminal state feverishly striving to displace America as the world's preeminent power. Shockingly, despite Chinese leaders showing their hostile intentions in every realm, the Obama administration refuses to take action or even acknowledge the threat--and as new evidence indicates, has gone so far as to actively cover up China's misdeeds.
In this alarming book, Decker and Triplett reveal:


How China's accumulating wealth is solidifying the Communist Party's grip on power, funding a major military build-up, and making the regime more bellicose

How Obama's reckless government spending and utopian green policies are empowering China at our expense

China's role as a major global proliferator of weapons of mass destruction to rogue regimes and Islamic terrorist groups

China's recurring pattern of stealing U.S. military, trade, and company secrets

Beijing's vast program to buy influence in American politics and universities

Why Obama's policies guarantee increasing Chinese aggression toward America in the near future
With China threatening everything from our national security to our food supply,
Bowing to Beijing
explains how the Chinese regime is conspiring against America--and how our own leaders remain willfully blind to the danger.
About the Author
Brett M. Decker is the editorial page editor of the Washington Times and an adjunct professor of government at Johns Hopkins University. A former governor of the Hong Kong Foreign Correspondents' Club, he has been an editor and writer for the Wall Street Journal, speechwriter to Majority Whip Tom DeLay in the U.S. House of Representatives, and has served as senior vice president for the Export-Import Bank and Pentagon Federal Credit Union. Follow him on Twitter @BrettMDecker. William C. Triplett II is the former chief Republican counsel to the Senate Foreign Relations Committee and has decades of experience working on China and national security issues. He lives with his family near Annapolis, Maryland.
Praise For Bowing to Beijing: How Barack Obama Is Hastening America's Decline and Ushering a Century of Chinese Domination…
Praise for Bowing to Beijing

These searing revelations will have you calling for impeachment."
Tony Blankley, bestselling author of The West's Last Chance

China's military build-up is a reality the United States must deal with and not just today, but well into the future. Conventional weapons systems, cruise and ballistic missiles, blue-water naval forces, and nuclear weapons are all part of Beijing's aggressive plan. Brett M. Decker and Bill Triplett have written a compelling analysis of China's plans and programs, and lay out a comprehensive and persuasive proposal for America's response. Policy-makers must read this book."
Ambassador John R. Bolton, former permanent representative to the United Nations and under-secretary of state for arms control and international security

To understand what China's unprecedented rapid modernization and expansion of its military forces mean in terms of its clear objective to achieve regional supremacy in the western Pacific and beyond, Bowing to Beijing is an absolute must read. Brett M. Decker and Bill Triplett make clear that regardless of the vast economic relations between China and the U.S., unless we maintain our military deterrence capability, a serious confrontation looms just over the horizon."
Admiral James A. Lyons, Jr., former commander in chief of the U.S. Pacific Fleet

My Motown soul brother Brett Decker and Wild Bill Triplett take aim at communist China and hit the red dragon square between the eyes. Patriotic Americans need to read about the growing Chinese threat in Bowing to Beijing."
Ted Nugent, American rock 'n' roll, sporting, and political activist icon, and bestselling author of Ted, White and Blue: The Nugent Manifesto
Advertisement