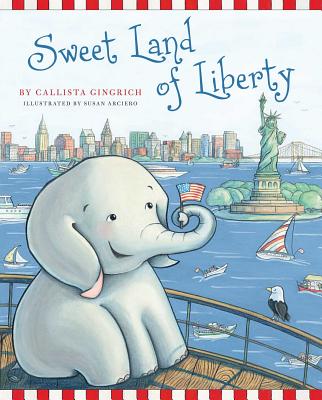 Sweet Land of Liberty (Ellis the Elephant #1)
Hardcover

* Individual store prices may vary.
Description
How did America become the land of the free?
In
Sweet Land of Liberty
, Ellis the Elephant sets off on a quest to find out.
Through an amazing afternoon at the library, Ellis travels through time and discovers the pivotal moments that have shaped our nation's unique history, including,


the Pilgrims' first Thanksgiving

the Boston Tea Party

George Washington crossing the Delaware

pioneers settling the great frontier

the first man on the moon
and many more of the astounding events and people whose dreams, courage, and hard work have made America great.
With its vivid illustrations and charming rhymes,
Sweet Land of Liberty
is a must read for children and parents alike who want to explore our nation's great history—and discover why America is a free and exceptional nation.
Regnery Kids, 9781596982925, 28pp.
Publication Date: September 26, 2011
About the Author
Callista Gingrich is the President of Gingrich Productions. She and her husband, Newt, host and produce historical and public policy documentaries. Recent films include, A City Upon A Hill, America at Risk, and Nine Days that Changed the World. Mrs. Gingrich's photography is featured in the New York Times bestseller, Rediscovering God in America, as well as in Ronal Reagan: Rendezvous with Destiny, which she co-authored. Callista is the voice for several audio books, including, A Nation Like No Other and To Save America. Mrs. Gingrich is also the President of the Gingrich Foundation. She resides in McLean, Virginia, with her husband, Newt Gingrich. Susan Arciero is the illustrator of numerous children's books, including Nat, Nat, The Nantucket Cat and Cornelius Vandermouse: The Pride of Newport. Growing up in Masachusetts and traveling the world as a military family, including ten years in Washington, D.C., made researching these illustrations even more captivating and inspiring. She lives in Pinehurst, North Carolina, with her husband, three children, and two Basset Hounds.