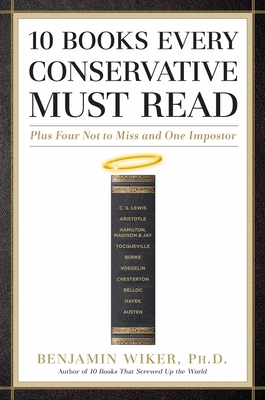 10 Books Every Conservative Must Read (Hardcover)
Plus Four Not to Miss and One Impostor
Regnery Publishing, 9781596986046, 369pp.
Publication Date: June 15, 2010
Other Editions of This Title:
Digital Audiobook (6/13/2010)
MP3 CD (6/14/2010)
Compact Disc (6/14/2010)
Pre-Recorded Audio Player (8/1/2010)
Compact Disc (6/14/2010)
* Individual store prices may vary.
Description
Following up his 10 Books That Screwed Up the World, author Benjamin Wiker brings you 10 Books Every Conservative Must Read: Plus Four Not to Miss and One Impostor. Offering a guide to some of the most important literary works of our time, Wiker turns his discerning eye from the great texts that have done so much damage to Western Civilization to the great texts that could help rebuild it. 10 Books Every Conservative Must Read features a range of works from classics such as Democracy in America and The Federalist and Anti-Federalist Papers, to more "pop" classics like Sense and Sensibility and The Tempest. Through these works, Wiker reveals some of the most important lessons for our time as well as the true meaning of conservatism. Written with an educational purpose and witty tone, this is a must-read for conservatives, Republicans, and booklovers everywhere!
About the Author
Benjamin Wiker received his Ph.D. from Vanderbilt University, and has taught at Marquette University, St. Mary's University, Thomas Aquinas College, and Franciscan University. He now writes full time as a senior fellow at the Discovery Institute and at the St. Paul Center for Biblical Theology. He has written several other well-received books, including most recently, 10 Books That Screwed Up the World, The Darwin Myth, and Answering the New Atheism (co-authored with Scott Hahn). He lives in rural Ohio with his beloved wife, seven children, and sundry goats, chickens, rabbits, dogs, cats, and whatever else happens to wander along.