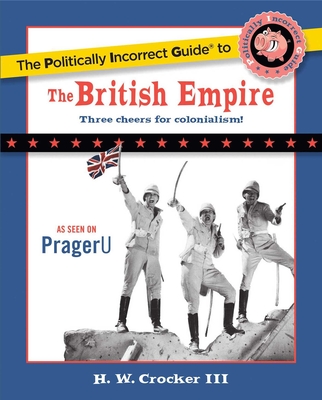 The Politically Incorrect Guide to the British Empire (The Politically Incorrect Guides) (Paperback)
Regnery Publishing, 9781596986299, 384pp.
Publication Date: October 24, 2011
* Individual store prices may vary.
Description
A brawling, rambunctious history celebrating the Empire—and the intrepid empire-builders—that gave the United States, Canada, India, and Australia not just a common language, but common ideals of freedom and justice
The British Empire
—the biggest empire in history—once ruled a quarter of the globe. It was built by an incredible array of swashbuckling soldiers and sailors, pirates and adventurers who finally get their due in H. W. Crocker III's panoramic and provocative view of four hundred years of history that will delight and amuse, educate and entertain. Strap on your pith helmet for a rollicking ride through some of history's most colorful events.
Bet your teacher never told you:


The Founding Fathers didn't rebel against British imperialism; they looked forward to the transfer "of the great seat of Empire to America"

The original Norman English invasion of Ireland was approved by the pope

Sir Charles Napier, commander in chief of the British Army in India, abolished the Hindu custom of widow-burning

Field Marshal Sir Gerald Templer's "hearts and minds" counter- insurgency strategy was instrumental in defeating the Communists in Malaya

The breakup of the British Empire led Winston Churchill to conclude that he had achieved "nothing" in his life

About the Author
H. W. Crocker III is a bestselling author who frequently writes about military history. He is the author of The Politically Incorrect Guide(TM) to the Civil War, Robert E. Lee on Leadership, Triumph, Don't Tread on Me, and the prize-winning comic novel The Old Limey. His journalism has appeared in National Review, The American Spectator, The Washington Times, and many other outlets. Educated in England and California, Crocker lives on the site of a former Confederate encampment in Virginia.
Praise For The Politically Incorrect Guide to the British Empire (The Politically Incorrect Guides)…
Praise for The Politically Incorrect Guide™ to the British Empire

As someone who grew up in India, I often hear people ask, What have the British done for us?' Until I read this book, I didn't have the full answer. And here is Crocker's answer: Apart from roads, railways, ports, schools, a parliamentary system of government, rights, separation of powers, checks and balances, the rule of law, and the English language... nothing!'"
—Dinesh D'Souza, President of the King's College and best- selling author of The Roots of Obama's Rage

The Politically Incorrect Guide™ to the British Empire offers a cautionary tale for Americans who don't believe the sun could ever set on our great land. Even the grandest nations collapse when a people no longer believes in itself or its mission. Harry Crocker's book is a jolly good read for Anglophiles and history buffs in general."
—Brett M. Decker, Editorial Page Editor of The Washington Times and former Governor of the Hong Kong Foreign Correspondents' Club

H. W. Crocker's Politically Incorrect Guide™ to the British Empire is a vivid, wide-ranging and persuasive defence of an empire that spread freedom, democracy and the rule of law.... and a testimony to those old virtues—grit, leadership and the stiff upper lip—which were taught to British children of my generation, and which are being air-brushed from history by the cult of political correctness. This brave and persuasive book deserves to be read in all courses of school history: it tells an inspiring story in an inspiring way."
—Professor Roger Scruton, philosopher and author of more than two dozen books, including A Political Philosophy: Arguments for Conservatism
or
Not Currently Available for Direct Purchase