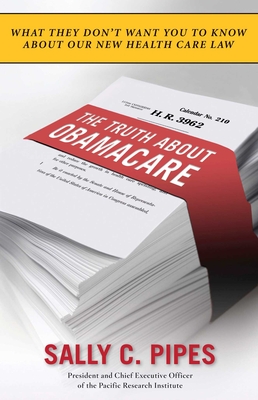 The Truth about Obamacare (Paperback)
Regnery Publishing, 9781596986367, 276pp.
Publication Date: August 3, 2010
* Individual store prices may vary.
or
Not Currently Available for Direct Purchase
Description
In her new book, The Truth About Obamacare, Sally C. Pipes--president of the Pacific Research Institute and an acknowledged expert on health care reform--reveals what Democrats in Congress and President Obama don't want you to know: Obamacare is even worse than most critics suspect. Debunking the myths that the current administration has touted, Pipes shows exactly what the new health care law will mean for you, your family, your doctor, and your wallet. She also reveals how, contrary to its promises, Obamacare will make health care more expensive, limit your options, lead to deteriorating medical care, and weaken America's already frail economy.
About the Author
Sally C. Pipes is president and chief executive officer of the Pacific Research Institute and a renowned expert on health care and economic issues. A former Canadian, and a refugee from Canada's government-run health care system, she lives in California, is a frequent guest on network and cable news shows--from The Today Show to The O'Reilly Factor, from The Glenn Beck Show to 20/20 with John Stossel--is a columnist for the Examiner newspapers, Chief Executive, and Investor's Business Daily, and has written for many other newspapers, including The New York Times, The Washington Post, and The Wall Street Journal.
Advertisement