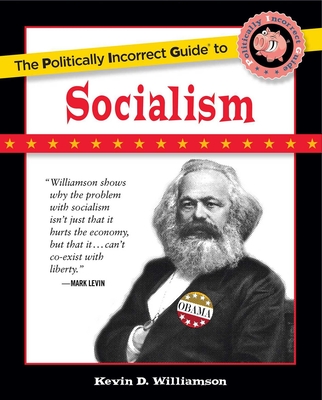 The Politically Incorrect Guide to Socialism (The Politically Incorrect Guides)
Paperback

* Individual store prices may vary.
Other Editions of This Title:
Digital Audiobook (1/13/2011)
Audio Cassette (1/1/2011)
MP3 CD (1/11/2011)
Compact Disc (1/11/2011)
Compact Disc (1/11/2011)
Description
Stalin's gulag, impoverished North Korea, collapsing Cuba...it's hard to name a dogma that has failed as spectacularly as socialism. And yet leaders around the world continue to subject millions of people to this dysfunctional, violence-prone ideology.

In The Politically Incorrect Guide™ to Socialism, Kevin Williamson reveals the fatal flaw of socialism—that efficient, complex economies simply can't be centrally planned. But even in America, that hasn't stopped politicians and bureaucrats from planning, to various extents, the most vital sectors of our economy: public education, energy, and the most arrogant central–planning effort of them all, Obama's healthcare plan.

In this provocative book, Williamson unfolds the grim history of socialism, showing how the ideology has spawned crushing poverty, devastating famines, and horrific wars. Lumbering from one crisis to the next, leaving a trail of economic devastation and environmental catastrophe, socialism has wreaked more havoc, caused more deaths, and impoverished more people than any other ideology in history—especially when you include the victims of fascism, which Williamson notes is simply a variant of socialism.

Williamson further demonstrates:

Why, contrary to popular belief, socialism in theory is no better than socialism in practice
Why socialism can't exist without capitalism
How the energy powerhouse of Venezuela, under socialism, has become an economic basket case subject to rationing and blackouts
How socialism, not British colonialism, plunged the bountiful economy of India into stagnation and dysfunction—and how capitalism is rescuing it
Why socialism is inextricably linked to communism

If you thought socialism went into the dustbin of history with the collapse of the Soviet Union, think again. Socialism is alive and kicking, and it's already spread further than you know.
Regnery Publishing, 9781596986497, 304pp.
Publication Date: January 10, 2011
About the Author
Kevin Daniel Williamson (born September 18, 1972) is an American conservative commentator. He is the theater critic for The New Criterion and the author of The Politically Incorrect Guide to Socialism (2011, Regnery), The End Is Near and It's Going to Be Awesome (2013, HarperCollins/Broadside Books), The Dependency Agenda (2013, Encounter Books), and The Case against Trump (2015, Encounter Books), and has contributed chapters to The New Leviathan: The State Vs. the Individual in the 21st Century (2013, Encounter Books) and Future Tense: The Lessons of Culture in an Age of Upheaval (2013, Encounter Books). Williamson previously worked at the Mumbai-based Indian Express Group, the Lubbock Avalanche-Journal, Journal Register Newspapers, and the Institute for Humane Studies at George Mason University, where he directed the journalism and communication programs, and as an adjunct professor at The King's College. Williamson was the editor of The Bulletin , a former daily newspaper in Philadelphia.