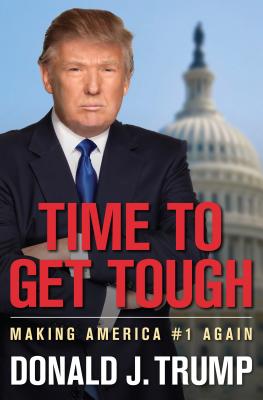 Time to Get Tough: Making America #1 Again (Hardcover)
Making America #1 Again
Regnery Publishing, 9781596987739, 216pp.
Publication Date: December 5, 2011
* Individual store prices may vary.
or
Not Currently Available for Direct Purchase
Description
A New York Times bestseller
2016 Republican presidential candidate Donald J. Trump has a plan to make America great again. President Obama has been a disaster for this country. He's wrecked our economy, saddled our children with debt, and gone around the world
apologizing
for America--as if the greatest nation in the world needed to apologize for being the land of opportunity and freedom that we were before Obama became president. Now, America looks like a broken country--stripped of jobs, stripped of wealth, stripped of respect. And what does President Obama do about it? He plays nice with the very same foreign governments who are eager to watch America burn. This can't go on. And if Donald J. Trump has anything to say about it, it won't. In his blockbuster book,
Time to Get Tough
, Trump has the answers America has been looking for, including:


How to finally secure our border and fix our immigration overflow

How to create American jobs by forcing Communist China into truly fair trade

How to retire our debt without endangering long-established programs--like Social Security, Medicare, and Medicaid--that millions of Americans depend on

How to undo the fraud of Obamanomics and the disaster of Obamacare
Blunt, straightforward, and honest, it's all trademark Trump, setting out a common sense agenda to restore American prosperity and make our nation respected once again.
About the Author
DONALD J. TRUMP is the world's most famous businessman, a many-time bestselling author, a political commentator, and owner and host of the hit NBC TV shows The Apprentice and Celebrity Apprentice.
Advertisement