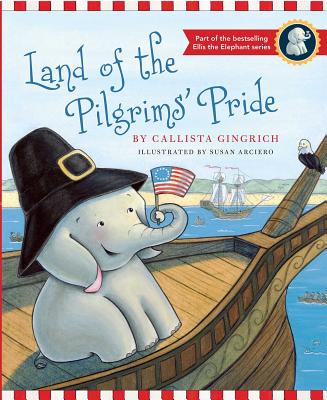 Land of the Pilgrims Pride (Ellis the Elephant #2) (Hardcover)
Regnery Kids, 9781596988293, 28pp.
Publication Date: October 1, 2012
* Individual store prices may vary.
Description
In the New York Times bestseller, Sweet Land of Liberty, Ellis the Elephant sets off on a quest to find out how America became a free and exceptional nation. Now Ellis is back and ready to learn about the birth of our great nation in Land of the Pilgrims' Pride. Written and illustrated by Callista Gingrich and Susan Arciero, Ellis once again educates and entertains as he discovers America's thirteen original colonies. Starting in Virginia, Ellis journeys through each of the colonies and learns about their unique characteristics. From Pocahantas to Benjamin Franklin, Ellis experiences life in Colonial America. Perfect for children ages 4-8, Land of the Pilgrims' Pride will delight young and adult readers alike while exploring how America began.
About the Author
Callista Gingrich is the President of Gingrich Productions. She and her husband, Newt, host and produce historical and public policy documentaries. Recent films include A City Upon a Hill, America at Risk, and Nine Days that Changed the World. Mrs. Gingrich's photography is featured in the New York Times bestseller Rediscovering God in America, as well as in Ronald Reagan: Rendezvous with Destiny, which she co-authored. She is the voice for several audio books, including A Nation Like No Other and To Save America. Mrs. Gingrich is also the President of the Gingrich Foundation. She resides in McLean, Virginia, with her husband Newt Gingrich. This is the second title in the Ellis series. The first, Sweet Land of Liberty, was a New York Times bestseller. Susan Arciero is an award-winning illustrator of numerous children's books, including Sweet Land of Liberty; Nat, Nat, the Nantucket Cat; and Cornelius Vandermouse: The Pride of Newport. Growing up and educated in Massachusetts, Susan currently lives in Pinehurst, North Carolina, with her husband, three children, and two Basset Hounds.
or
Not Currently Available for Direct Purchase