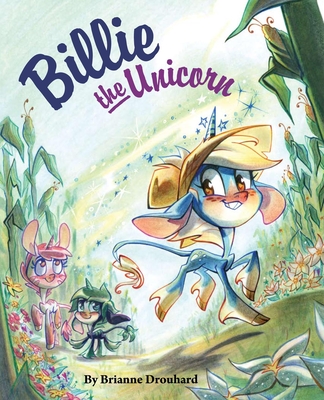 Billie the Unicorn (Hardcover)
Immedium, 9781597020244, 36pp.
Publication Date: April 26, 2011
* Individual store prices may vary.
or
Not Currently Available for Direct Purchase
Description
"Animator and character designer Brianne Drouhard (Batman Brave and Bold, Ben 10, etc), aka potatofarmgirl, has her first children's book just out: Billie The Unicorn. It's filled with gorgeous drawings of the type that used to be animated - this would have made a great TV special 25 years ago. In fact, it would make a great kids' special or short children's film today. I hope Brianne can figure that out - but until then, her new book will keep you and the small ones quite entertained." - Cartoon Brew "If you like pretty twinkly magic, unthinkable depths of lavish colors, organic farming, and horses with horns, boy are you in for a treat The brilliantly talented marker wielding creator of this universe, Brianne Drouhard, has wrought forth a world of such intense charm and adorableness, that even the coldest hearted football jock will not be able to resist the call to be immersed in this lush and wondrous world." -- Derrick J. Wyatt, Transformers: Animated The young unicorn Billie seeks adventure She leaves her cornfield for the forest, where her friendly cousins Rhubarb and Smudge show her how to grow delightful flowers. However, the legend of a Queen's castle that holds the world's grandest garden lures her away But will Billie discover that friendship and freedom matter more? Find out Brianne Drouhard has contributed to the popular animated TV shows Batman: The Brave and the Bold, Ben Ten, Teen Titans, and Transformers: Animated. "Another appropriate lesson to learn from Billie the Unicorn is that the grass isn't always greener on the other side. The most enchanting thing about this fable is the artwork. My girls are seventeen, but that did not stop them from snatching this book out of my hands and declaring it worthy of 4 pluses, all due to the illustrations. "This is the kind of book I would have read over and over again for the artwork," one of my daughters declared. And it's true. My Little Pony fans and lovers of horses and unicorns will delight in Billie the Unicorn. The illustrations are perfectly suited for the minds of children encouraging them to imagine other stories for Billie and playing them out. Little girls will love Billie especially." - Biblio Reads "Brianne Drouhard spins a heartfelt tale of adventure, magic and whimsy that leaves you wanting more. Her beautiful illustrations transport you into a world you'll want to visit again and again." - Summer Hayes, The My Little Pony Collector's Inventory "My boys were rapt until the end, and I'm sure we'll be enjoying the book many more times in the future." - SuperPunch

About the Author
Brianne Drouhard: Brianne grew up in a small town in Washington State, where her family grows potatoes. She has been interested in animation since an early age and draws everyday. Brianne now works in television animation as a character designer and storyboard artist. TV shows she has contributed to are Teen Titans, Class of 3000, Transformers Animated, Ben Ten, and Batman: The Brave and the Bold. She is a graduate of Calarts and likes to create illustrations, stories, and short cartoons in her free time. A recipient of a NFAA scholarship, she graduated from California Institute of the Arts (CalArts). Her artwork has been shown at galleries in Los Angeles and Philidelphia. Brianne's online portfolio is at briannedrouhard.com.
Praise For Billie the Unicorn…
"Not only do Brianne's drawings have great style and flair, they also use classic principles...the whole shebang of good drawing skills, and to top it off, a lot of individuality and fun!" John Kricfalusi, creator of Ren & Stimpy

"Brianne's world of super-cute characters and beyond beautiful landscapes sends me on a visual sugar high with every page I turn...." - Sam Register EVP Warner Bros Animation

The full-bleed illustrations in a combination of colored pencil and colored markers use subtle matte-white sparkles, dramatically-staged scenes in animation style, and an effective use of contrast to show a dramatic story unfolding. The climax of the story is well-represented visually with an increasing cacophony of detailed flowers" Bayviews, Association of Children's Librarians of Northern California

Very excited to see another great book release from Immedium! Billie the Unicorn is a story about a sweet, but unfulfilled little unicorn named Billie, searching for her place and purpose in the world. After making a few bad choices, Billie learns to be true to herself and those that love her. The illustrations in this book are phenomenal, the characters are filled with charm and personality!" Tokyo Bunnie
Advertisement