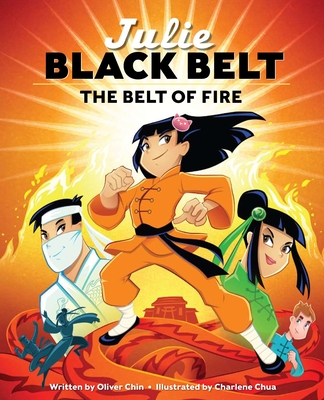 Julie Black Belt
The Belt of Fire
Hardcover

* Individual store prices may vary.
Other Editions of This Title:
Hardcover (9/1/2008)
Description
Our energetic heroine Julie aims for her next martial arts rank - The Belt of Fire But will a new student get in her way?
This long-awaited sequel to
Julie Black Belt: The Kung Fu Chronicles
picks up as Julie proudly wears her yellow belt and is eager to attain her next rank: orange Still inspired by Brandy Wu, an action movie star, Julie now meets a new student in her class...but is he better than her? Can Julie learn to improve her abilities while becoming a gracious partner, and ultimately earning her own
Belt of Fire
? It's like when her heroine Brandy Wu in a movie seeks a treasure but must combat a mysterious opponent Another experienced teacher gives Julie valuable advice, but is Julie brave enough to make this wisdom her own? Artist Charlene Chua's colorful, action-packed illustrations make Julie's quest one that any aspiring martial arts practitioner, as well as their parents and instructors, will enjoy.
Children and parents identify with this spunky female star who is willing to give all she's got. Julie is a fan favorite and young readers make her vivid story their own. Again this is an engaging introduction of martial arts to young children who enroll in after school programs. Inspired by a real girl in a taekwondo class, this story's lessons are applicable to any martial art, such as karate, ju-jitsu, aikido, judo, and wrestling.
Kung fu means a skill achieved through consistent dedication. But Julie discovers that knowing the correct moves isn't the most important thing. Teachers appreciate how the story promotes respect, conflict resolution, and self-defense, which in turn improves focus and concentration. Training builds confidence and social skills and improves physical fitness (coordination, balance, posture). Artist Charlene Chua's vibrant drawings capture Julie's high-flying action with dynamism and verve. With its bright, action-packed cover in super hero style, this book will draw young readers in, especially those interested in martial arts... Girls, especially, may welcome a female protagonist in a kung fu book, but primary boys will most likely enjoy this story as well.
- Puget Sound Council for Reviewing Children's Literature/Media
Immedium, 9781597020794, 40pp.
Publication Date: October 8, 2013
About the Author
Oliver Chin has written The Tales from the Chinese Zodiac series, Baltazar and the Flying Pirates, Welcome to Monster Isle, Timmy and Tammy's Train of Thought, and The Adventures of WonderBaby. He is writing Julie Black Belt's sequel and lives in San Francisco, California. Charlene Chua was born in Singapore and raised on a diet of American cartoons and music in the midst of a booming Asian city. She now is an award-winning illustrator living with her husband and cats in Toronto, Canada, and illustrating Julie Black Belt's sequel.