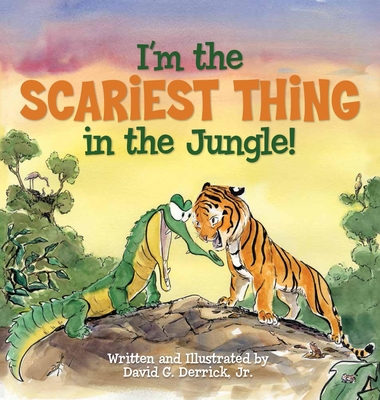 I'm the Scariest Thing in the Jungle!
Hardcover

* Individual store prices may vary.
Description
A tiger cub and little crocodile joust in a witty war of words. Delightfully illustrated by an animator on Disney's 2019 film The Lion King .
In India the Bengal tiger is the king of the land. But the giant saltwater crocodile is the ruler of the water. What happens when the kids of these fearsome beasts meet? Let's get ready to rumble These animals sing their own version of
Anything You Can Scare, I Can Scare Better
Two youngsters engage in a playful battle of bragging rights. Their spirited banter and humorous romp will entertain readers of all ages. In lush spreads painted in traditional watercolor, this budding rivalry escalates. The two kids compare their tremendous stealth, strength, stamina, and even speed. The argument is subtly educating, but overtly hilarious; especially when readers learn what animal is truly the scariest thing in the jungle.
In a playful game of one-upmanship, each tot boasts frightening canines, claws, and capabilities. They climb trees and swim circles around each other in a close contest. But will these terrible tykes discover someone even scarier than them? No elephant is waiting around to find out the answer
Children and their parents can identify with the desire to make one's mark, stand out in a crowd, and be proud of one's background and talent. Animal lovers can root for their favorite "king of the jungle." Teachers and librarians will enjoy repeated readings of this tall tale, illustrated with naturalistic verve by a veteran animator at Disney and DreamWorks. The book was a Finalist for the 2014 Bull-Bransom Award for best children's book illustrations with a wildlife or nature focus. "In the style of an animated children's movie, this endearing book captures the voices of two young jungle tots in a power struggle... Sculptor and animator David Derrick imbues his characters with the spunky personality reminiscent of Simba and other classic movie friends, bringing them to life with colorful, cartoonish drawings and boastful dialogue. This tale of independence and humility will be adored by children"
-
ForeWord
magazine
Immedium, 9781597020879, 36pp.
Publication Date: October 8, 2013