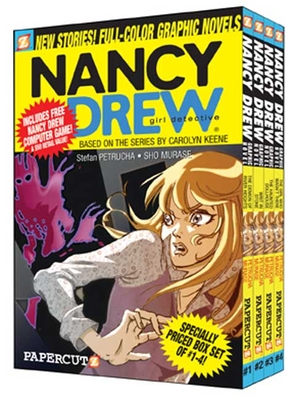 Nancy Drew Boxed Set (Boxed Set)
Volumes 1-4
Papercutz, 9781597070386, 384pp.
Publication Date: September 19, 2006
* Individual store prices may vary.
Description
Volumes 1-4 of all-new Nancy Drew mysteries in graphic novel form with manga-inspired art. Ages 8 to 12.
About the Author
Stefan Petrucha's been writing comics and novels for - whoa! A really, really long time. A lot of his stuff tends to be pretty scary, like Topp's X-Files comic, or his graphic novel, Kolchak: The Devil in the Details (which was nominated for a Stoker award in 2003!), but then again he's also written over 150 Mickey Mouse and Donald Duck comics for Egmont Publishing in Denmark. He's also signed a four book deal with Penguin's new teen imprint, Razorbill, to revive his incredibly cool comic creation, Squalor, in novel form. He lives in Westchester County, NY with his two daughters, Maia and Margo (both of whom he hopes will be reading these Nancy Drew graphic novels), and his wife and fellow writer, Sarah. Sho Murase is half Japanese and half Korean but her first language is Spanish because she grew up in Spain. She moved from Europe to Vancouver and from Vancouver to Maverix Studios in California, where she works in animation and draws comics that won't leave her enough time to sleep. She is the author of "Sei, Death and Legend" published by Image Comics and is currently also working on her own graphic novel series "ME2" for Tokyopop.
or
Not Currently Available for Direct Purchase