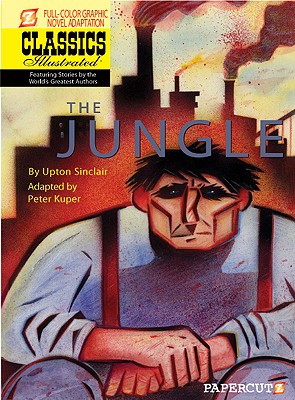 Classics Illustrated #9 (Hardcover)
The Jungle
Papercutz, 9781597071925, 56pp.
Publication Date: May 11, 2010
* Individual store prices may vary.
Description
The Jungle recounts the shocking tales of immigrant Jurgis Rudkus and his family, who find themselves at the mercy of a brutal system in the stockyards of Chicago. The original book's expose of the dangerous and unsavory practices in the meatpacking industry created a public furore that led to the passage of the Pure Food and Drug Act. The mood and atmosphere of the times is captured beautifully by Peter Kuper's artwork.
About the Author
Peter Kuper's celebrated work has appeared in Time magazine, Newsweek, The New York Times, and MAD magazine, where he currently writes and illustrates Spy vs. Spy. He founded the political comics magazine World War III in 1987. Comics work includes an adaptation of Franz Kafka's The Metamorphosis (Crown) the short story collection Give it Up! and Comics Trips (both NBM Pub). His work Sticks and Stones, a wordless graphic novel about the rise and fall of empires, was awarded the gold medal in the sequential arts category in the 2004 Society of Illustrators competition.