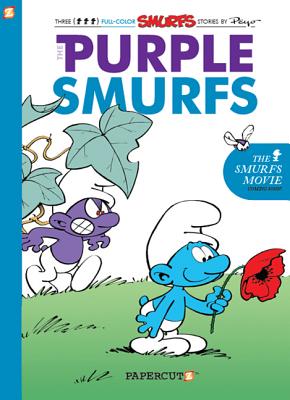 The Purple Smurfs (Hardcover)
Papercutz, 9781597072076, 56pp.
Publication Date: February 1, 2011
Description
When a strange fly bites one of the Smurfs, a full-on epidemic develops in the Smurf village After being bit, a Smurf turns purple, his vocabulary is reduced to one word (GNAP ), and he goes berserk The purple Smurf runs amok around the Smurf Village biting other Smurfs on the tail, causing them to turn purple and act crazy too Soon there are more purple Smurfs than blue Smurfs in the village. It's up to Papa Smurf to find a cure and save Smurf Village before all of the Smurfs lose their minds for good.
About the Author
Considered a legend in the comics world, Yvan Delporte was a writer often credited with helping to usher in the "Golden Age" of Franco-Belgian comics. Best known for his work on "Smurfs," Delporte also served as Editor-In-Chief for the comics magazine "Spirou," helping to create the memorable comics character "Gaston Lagaffe."Peyo created The Smurfs in his comic strip "Johan And Peeweet." Peyo wrote over 8 extremely popular titles in Europe throughout his storied career. In 2008 the country of Belgium celebrated what would have been his 80th birthday by issuing a 5 Euro coin featuring his creation, The Smurfs.
Advertisement