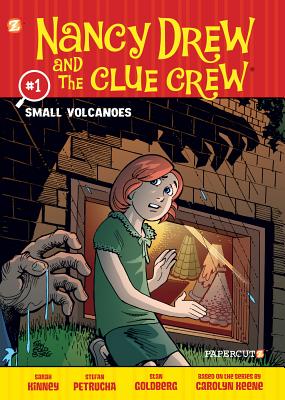 Small Volcanoes (Paperback)
Papercutz, 9781597073547, 64pp.
Publication Date: October 30, 2012
Description
When Nancy decides to build a model of a volcano for her science project, best friends George (Georgia) Fayne and a gung-ho Bess Marvin arrive to help. But, the next day, their teacher Mrs. Ramirez opens the door to find all the volcanoes missing. Why are they missing? Is it an actual crime or a prank? And who did it? Nancy Drew, with the help of Bess and George, is on the case.
About the Author
Stefan Petrucha has written X-Files comics and for Disney Comics. He is the author of such YA series as Timetripper, Split, The Rule of Won, and Blood Prophecy, which was published in 2010 to rave reviews. Stefan authored the hit Papercutz graphic novel "Tales From the Crypt #8: Diary of a Stinky Dead Kid" and appeared on the most reason season of A&E's Paranormal State.Stan Goldberg started his comics career in 1949 at age 16 as a staff colorist for Timely Comics, now known as Marvel Comics. Stan designed the colors of some of the most popular characters of the 1960's, including Spider-Man, The Fantastic Four, The X-Men, and The Hulk. He has had an extremely prolific career that stretches across 5 decades. In the 1990's he gained notoriety for drawing the Riverdale characters for the wildly popular Archie Meets the Punisher crossover between Archie and Marvel. He works as an artist for Archie Comics to this day.
Advertisement