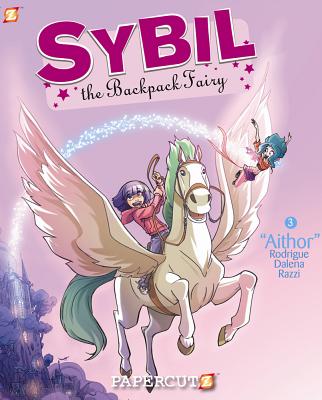 Aithor (Hardcover)
Nbm/Papercutz, 9781597073691, 48pp.
Publication Date: January 15, 2013
* Individual store prices may vary.
or
Not Currently Available for Direct Purchase
Description
Having a fairy friend can be fun, but it's not easy When Nina first met the fairy Sybil, she had no idea the fate of the world would end up resting in her hands. After her defeat, the black fairy Amanite has teamed up with the King of Evil, Aithor, planning to destroy the "trees of life" that are found throughout the world of the Fairies. If these trees are destroyed, not only will the fairy world fall, but the world of humans, as well The King and Queen of the Fairies charge Sybil and Nina with the task of stopping Aithor and Amanite, as Nina gets closer to discovering the truth behind a mysterious prophecy that seems to foretell her future.
About the Author
Michel Rodrigue has been active in art design and comics for over 25 years. He began his career as a cartoonist, designing the official mascot for the 1980's French National rugby team. After working on a comic adaptation of Cyrano de Bergerac and drawing for TinTin magazine, Rodrigue launched his own studio, "Cadero," in the mid 1990's, which he continues to run. His work has been featured in the Disney Fairies graphic novels from Papercutz.Antonello Dalena is an artist for Disney Italia. He has drawn the Donald Duck series Papernik for Topolino and PK3. He also works as a character designer on Artoonic. His work has also appeared in numerous volumes of the Disney Fairies graphic novel series as well as Ernest and Rebecca, both from Papercutz.
Praise For Aithor…
"Papercutz introduces a different kind of fairy you won't find in Never-Never Land." — SCHOOL LIBRARY JOURNAL
"Rodrigue's perky dialogue, peppered with exclamation points, is the perfect fit for Dalena and Razzi's rainbow-hued art and swirls of fairy sparkles." — NO FLYING, NO TIGHTS 
"In an industry where there are way too many whiny girl geniuses, sullen, mopey children of the night and Mary Sues aplenty, Nina is a likeable kid with a healthy sense of who she is, interests that are obviously gratifying to her (she boxes) and a family life that is refreshingly free of slammed doors and tearful soliloquies about how no one understands." — SEQUENTIAL TART
"With a great cliffhanger, fast-paced action scenes and a nemesis in both the real and supernatural world, Sybil the Backpack Fairy builds a rich, inventive world that will definitely appeal to an older middle grade or teen reader." — SPANDEXLESS"Polished and crisp fantasy-meets-reality adventure, with hints of Disney." — COMIC ATTACK
Advertisement