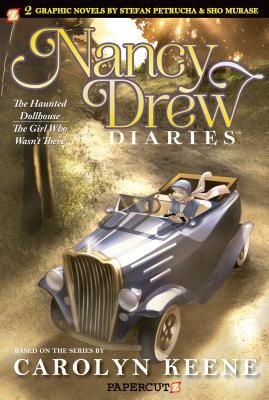 Nancy Drew Diaries #2 (Paperback)
Papercutz, 9781597077781, 176pp.
Publication Date: July 29, 2014
* Individual store prices may vary.
Description
River Heights is celebrating Nostalgia Week and everyone in town is dressing up and acting like it was 1930 – including Nancy, Bess, and George! Wait 'till you see Nancy in her roadster! But when crimes in Emma Blavatsky's antique dollhouse start coming true, Nancy has a full-blown mystery on her hands in "The Haunted Dollhouse." Then, Nancy gets a call for help late one night from a tech support girl she befriended over the phone. When the line goes dead, Nancy is determined to get to the bottom of things. Soon, Nancy, her dad, and friends George and Bess are on their way to India to find Kalpana, "The Girl Who Wasn't There."
Two mysteries from the Girl Detective's personal diaries come to life in these thrilling graphic novel adventures!
About the Author
STEFAN PETRUCHA is the author of such YA series as Timetripper, Split, and The Rule of Won, as well as THE THREE STOOGES, POWER RANGERS, PAPERCUTZ SLICES, and many other series from Papercutz. He has written X-Files comics for Topps, Disney comics for Egmont, and he was nominated for a Stoker Award for his graphic novel, Kolchak: The Devil in the Details.
SHO MURASE is half Japanese and half Korean but her first language is Spanish because she grew up in Spain. She moved from Europe to Vancouver and from Vancouver to Maverix Studios in California, where she works in animation and draws comics that won't leave her enough time to sleep. She is the author of Sei, Death and Legend published by Image Comics and ME2 from Tokyopop.
or
Not Currently Available for Direct Purchase