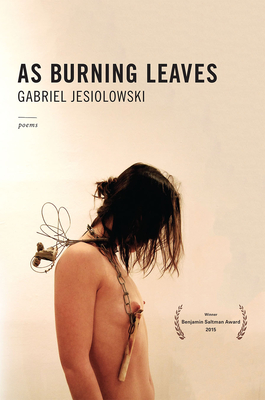 As Burning Leaves (Paperback)
Red Hen Press, 9781597090254, 88pp.
Publication Date: April 13, 2017
* Individual store prices may vary.
Description
The 2015 Red Hen Press Benjamin Saltman Poetry Award winner, chosen by Carl Phillips.
An arresting whisper of a debut, As Burning Leaves is a record of what remains. It moves through the visible world with precision and heart--delivers us to a space of aquatic light, to bruises flowering and moonlit streets covered in clothing. This collection emerges from channels of film, contemporary art, and meditations on the body: "less / if you dare winter / if you cut a star into your leg / if you find the green in the muck / less if the clouds disperse to allow blue inlets." As Burning Leaves traces a path of queer failure that questions notions of desirability, self, and otherness. Jesiolowski asks what art is for, recalibrates the room of the stanza, proposes names for touch we never use. This book has an internal navigational system, a pact with the phenomenal. It courts the fleeting and rests in the stigma of a sunflower, lets us taste smoke in snow. ." . . the folk song says that we need a little sadness--so we invent the passing of railcars . . ." Elegant and cutting, radical and intimate, this is a book to find, to hold, to give.