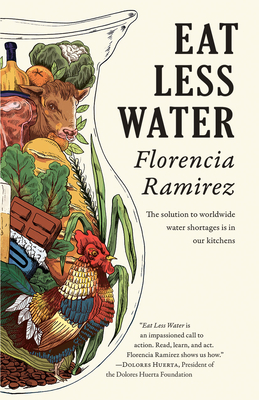 Eat Less Water
Paperback

* Individual store prices may vary.
Description
Experts predict two-thirds of people living on this planet in 2030 will experience water scarcity, a situation expected to result in the deaths of millions and an unprecedented rise in military conflicts. Can we as individuals hope to have any effect on the global scale of water misuse?
Yes, we can make a significant difference--with our food choices--learned author and activist Florencia Ramirez as she traveled across the nation to interview farmers and food producers. Tracing Ramirez's tour of American water sustainable farms--from rice paddies in Cajun Louisiana to a Hawaiian coffee farm to a Boston chocolate factory and beyond--Eat Less Water tells the story of water served on our plates: an eye-opening account of the under-appreciated environmental threat of water scarcity, a useful cookbook with water-sustainable recipes accompanying each chapter, and a fascinating personal narrative that will teach the reader how they, too, can eat less water.
Red Hen Press, 9781597090391, 264pp.
Publication Date: November 1, 2017