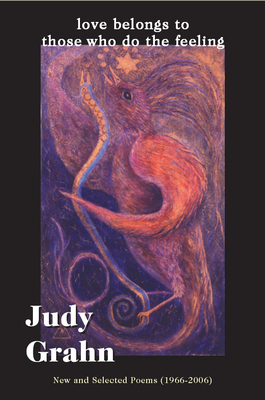 love belongs to those who do the feeling (Paperback)
Red Hen Press, 9781597091213, 272pp.
Publication Date: October 15, 2008
* Individual store prices may vary.
Description
love belongs to those who do the feeling--an exciting collection of new and selected poetry by Judy Grahn.  The book contains selections from Judy's entire body of poetic work from The Work of a Common Woman, The Queen of Wands and The Queen of Swords, to new poems written between 1997 and 2008. Judy's poetry is rangy and provocative.  It has been written at the heart of so many of the important social movements of the last forty years that the proper word is foundational--Judy Grahn's poetry is foundational to the spirit of movement.  People consistently report that Judy's poetry is also uplifting--an unexpected side effect of work that is aimed at the mind as well as the heart. Judy continues to insist that love goes beyond romance, to community, and that community goes beyond the everyday world, to the connective worlds of earth and spirit. 
About the Author
Judy Grahn is a poet, writer, and social theorist. She currently serves as Research Faculty for the Institute of Transpersonal Psychology in Palo Alto, California. She is former director of Women s Spirituality MA and Creative Inquiry MFA programs at New College of California. Her books include love belongs to those who do the feeling (Red Hen Press, 2008), Blood, Bread, and Roses (Beacon Press, 1994), and Edward the Dyke and Other Poems (The Women s Press Collective, 1971)."
Praise For love belongs to those who do the feeling…
I am thrilled that Judy Grahn's amazing poetry will once again become  available to a new generation.  She is a phenomenon--a fierce poet of witness and action, a visionary, with a tough and compassionate heart and a piercing intelligence, rooted in a spirituality that locates the sacred in the belly of the profane.   And what a writer!  Look at her wit, her compression, her ear for rhythms and sounds, her instinct for dialogic tension, her ability to compose large structures held together as in music by expected and unexpected recurrences, her  common woman's twentieth century vocabulary along with ancient and  archaic uses of language:  naming as ritual, cursing, keening, spell- casting.   Anyone who reads Grahn will be changed for life.  Repeat:  for life.
--Alicia Ostriker
Judy Grahn takes her title from a poem commemorating the death of her first lover, but love belongs to those who do the feeling is far from elegiac. It bursts with life energy. Grahn writes of the erotic as "a force between artists…an enfusion of energy fueling the desire for change." "Belly dancers," she adds, "express love and spiritual community this way as well." Another brilliant California poet, Jack Spicer, remarked that poems must "echo and reecho against each other": "they cannot live alone any more than we can." It is such echoing and reechoing that we find in this selected poems. "The will to change"—Charles Olson's phrase—animates everything. Grahn's mentor Gertrude Stein insisted that the poet had to work "in the excitingness of pure being"; she must "get back that intensity into the language." Such intensity is always present in the work of this "common woman" who commonly achieves the miracle of accessibility without simplification. In our warmongering culture, the figure of the "warrior" is put forth by both men and women as the emblem of spiritual activity. (The "woman warrior.") No poems are more "active" than Judy Grahn's, but cultural change is already present in her choice of metaphor: she chooses the dancer, not the warrior. The poems in love belongs to those who do the feeling might be thought of as the longing for community, but if you read them carefully you will see that in fact they are themselves community. "They cannot live alone any more than we can." 
 --Jack Foley