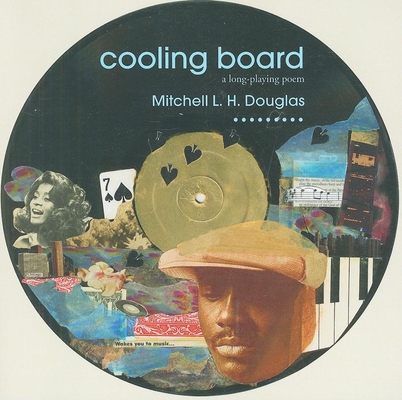 Cooling Board (Paperback)
A Long Playing Poem
Red Hen Press, 9781597091404, 112pp.
Publication Date: February 15, 2009
* Individual store prices may vary.
Description
In the tradition of the Langton Hughes classic Montage of a Dream Deferred, Mitchell L. H. Douglas uses persona poetry to explore the personal and professional struggles of soul legend Donny Hathaway in his debut collection Cooling Board: a Long-Playing Poem. Evoking the sense of listening to a concept album, Douglas presents a narrative in two sides: side one focusing on Hathaway's development as a young musician and subsequent rise to fame and side two bearing witness to the adversity that plagued his later years.  Readers will see Hathaway as true to his family, true to his faith, and uncompromising in his quest for musical innovation.
In a nod to Hathaway's legacy as a musical trailblazer, Douglas implements a significant poetic innovation in the format of the book. By including alternate versions or "takes" of poems throughout Cooling Board, the reader hears an echo of ideas that can be likened to an album with previously unreleased versions of popular songs. When the poems are revisited in alternate takes, new information emerges, and the reader is forced to consider new interpretations. Along the way, poems resembling liner notes and pop charts enhance the experience, never letting the reader forget that the heart of this ride is the music.
Above all, Douglas' depiction of Hathaway gives readers the human side of a man who has remained a mystery in the 30 years since his death. Not only does the poet speak in the voices of Hathaway and his long-time collaborator Roberta Flack, the reader also hears the voices of those closest to Hathaway whom we are less familiar with: his mother, Drusella Huntley, his grandmother, Martha Crumwell—Hathaway's earliest music teacher—and his wife, Eulaulah.
As the book's first "Liner Notes" poem recognizes, "Cooling Board is about life lessons, the difficult things you don't always get on the first take." With Douglas as a guide versed in the power of possessing many tongues, Cooling Board captures its reader like the best Hathaway song: passionately, honestly, and with an undeniable sense of purpose.
About the Author
Mitchell L. H. Douglas' poetry has appeared in Callaloo, Crab Orchard Review, and the anthologies The Ringing Ear: Black Poets Lean South (University of Georgia Press), America! What's My Name? (Wind Press), and Zoland Poetry Volume II (Zoland Books) among others. He was named a finalist for the Stan and Tom Wick Poetry Prize in 2007 and nominated for a Puschart Prize in 2006. A founding member of the Affrilachian Poets, a Cave Canem fellow, and Poetry Editor for PLUCK!: the Journal of Affrilachian Arts & Culture, Cooling Board: a Long-Playing Poem, is his debut collection. "
Praise For Cooling Board: A Long Playing Poem…
At a time when most series writing has been reduced to  metaphor'd-fact  and young poets, in the pursuit of the bleached mask of Post Race cultural aesthetics, have lost their kinship to the nuances of the oral tradition, let alone soulful journeys into Soul, comes Cooling Board, a passionate, layered plea and low swing into the Go Tell It Corner and MountainBottom of human genius, its lineage, tutelage, maturation, triumphs, loves and losses. Whatever Soul is, it's all here––struggling through the pain of secular impulse, and the note-reaching psychological drama-duets that haunted the vision of Donny Hathaway's gift and unique approach to song. Mitchell Douglas deepens, inward, the extensions of prosody, adding inspired improvisation to the unknown knowns of persona, collective and personal. Cooling Board might just be the last necessary series, the one with church-basement and chart-topping swagger, the one that amens the rise and alternate takes the fall.
                                                                                                                                                                                                                                                  ---Thomas Sayers Ellis
Roosted at Fender Rhodes piano and veiled beneath a supernatural Apple cap, Donny Hathaway narrated the many rivers of the human heart in un-ironed sweet song. In Cooling Board, Mitch Douglas, our new bard of Black musical memory, hears the call of Hathaway's piano, peeks beneath the signature hat, then steps bold into the river of Hathaway's iconic sound. This is Mitch Douglas' neophyte troubadour baptizing. The poet is drenched, then, set sailing, in what is found on bank and shore of Hathaway's life. The poet crafts a bright theatre of response, a rhythmic, un-authorized, long-playing poem on the life of the Chicago/St. Louis genius, who gave us notes we had never heard before and will never hear again. Those of us raised on his black octaves know that this 8 track of a winding story cannot bring Hathaway back to us, but it does peel our hearts back far enough to feel the pouring in of both the critical Eulaulah and the unusual ukulele of Hathaway's piercing balladry. Douglas does his poet-job. He makes us hunger for Hathaway, he makes us reach for his every hummed-up and moaned-out word, underwater, with our ears sloshing full of Hathaway's high notes, holding our breath to the end.



---Nikky Finney
Author of The World is Round
Cooling Board, Mitchell Douglas' debut collection, is a labor of love and gives expression to poetry's most intimate function: to save what we love.  Beyond moving Donny Hathaway out from a corner and in toward the center of what came to be called soul music, this "long-playing poem" honors the essential mystery at the heart of one who heard voices—sometimes bedeviling ones but more often perfectly pitched angelic ones, to which his music points.  That mystery is like the hole at the center of a long-playing album, a metaphor that gives shape to this beautifully conceived collection.  Douglas knows where the grooves are, and with the delicacy and precision needed to set the needle down between tracks, he has honed then sequenced each poem, mindful of the advice given by Miss Martha, the gospel-singing grandmother who raised Hathaway:  "Circles, baby.     In circles."  In his complex circlings in and through the difficult facts of Hathaway's life, Mitchell Douglas has succeeded in the nearly impossible task of surrounding the sublime ache for the ineffable with sound.
                                                                                                                                                                                                                                                                           —Debra Kang Dean