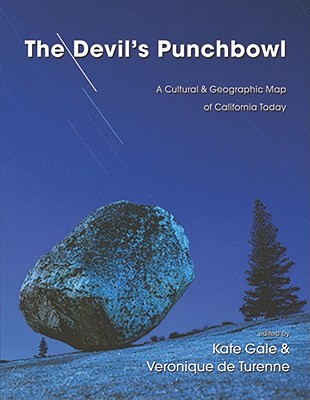 The Devil's Punchbowl
A Cultural & Geographic Map of California Today
Paperback

* Individual store prices may vary.
Description
The Devil's Punchbowl: A Cultural & Geographical Map of California Today is an anthology edited by Red Hen Press's Managing Editor, Kate Gale, and Los Angeles Times reporter and editor Veronique de Turenne. Essays were commissioned from writers living in California, who were asked to reflect on an aspect of the state's geography, natural or man-made: Alcatraz Island and its prison; Manzanar and Mt. Whitney; Big Sur and Joshua Tree; Los Angeles' oil derricks and Mountain View's Google headquarters; the farms of the Central Valley and the redwoods of the Northern Coastland. Does Alcatraz, from its important role in Native American activist history to today's defunct prison, retain meaning beyond a tourist attraction? How is the expanding border fence between Southern California and Mexico affecting, economically and psychologically, the individuals who live near it? California's outsized cultural and economic impact on both our country and the rest of the world necessitate a continual taking stock, to prevent losing ourselves in the state's constant transformations. The Devil's Punchbowl captures a pivotal time in our country's history, as some of the state's most recognized, complex, and accomplished writers describe their relationship with California's ever-changing geographic, economic, and psychic landscape.
Praise For The Devil's Punchbowl: A Cultural & Geographic Map of California Today…
We wanted to write a living history of California, to collect pieces by living authors who breathed in California and loved it, who loved the desert, the mountains, the beaches, the freeways, the smog.  We found them.  Carolyn See writing about the coming of the smog; writers on MonoLake, the Devil's Punchbowl, Arcata, the restaurant where the most drug deals go down in California.  The best river for fishing. Mark Arax writes of Tulare Lake, a buried lake like Atlantis that resurfaced and California is all about reinvention no matter who does the reinventing. Susan Straight writes of the Inland Empire, a place that is maybe past reinvention.  She talks of immigrants, of working hard, of raising children in spite of difficulties in desert heat. Jenny Factor writes of the oldest Jewish cemetery.  California is full of stories. "Kettleman City" by Matt Shears is one of those pieces that surprises you; it's a city we've all driven through on our way to San Francisco but have never really seen, and that apparently is the problem.  The city houses a chemical waste dump, a 70% Latino population, 25% unemployment and an insanely high cancer rate and birth defect rate.  That's California too.  As Pat Morrison says of the car, the symbol of California, "it runs on fossil fuel and faith and myth." 
This is a book about California with its dreams of sunshine, gold, light, oranges, fruit trees, palms, pools, silicon and then the reality:  Mountains and brush, miles of coastline, smog and redwoods, deserts and Joshua Trees, drugs and poverty, sadness and something we hold in our hands instead of sunlight, instead of money, instead of dreams. "String or nothing" the hobbit might say.  That's it, in California, what you have is not what you expected, but what you have you make the best of and you create a new story with that, you create a story that will make your geographic space the envy of the world.  That's California.  Don't you wish you were here?  Don't you wish you were a Californian too? 
Red Hen Press, 9781597091640, 208pp.
Publication Date: August 15, 2010
About the Author
Kate Gale is Red Hen Press's Managing Editor. She has a BA/MA in English with emphasis on Creative Writing and a Ph.D. in American Literature from Claremont Graduate University. She is a poet and writer with four books of poetry, a novel, a bilingual children's book, editor of three literary anthologies, and has completed the libretto for the opera "Rio de Sangre" by Don Davis, which will soon receive its world premiere.
Veronique De Turenne is a Los Angeles-based journalist, essayist, & playwright. Her literary criticism appears on NPR and in major American newspapers, frequently the Los Angeles Times. She is at work on a novel.
or
Not Currently Available for Direct Purchase