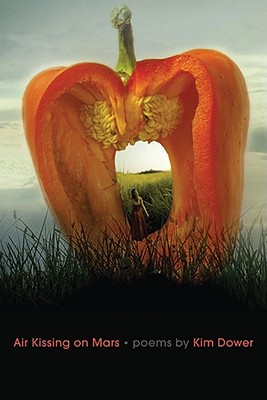 Air Kissing on Mars (Paperback)
Red Hen Press, 9781597091664, 136pp.
Publication Date: October 1, 2010
* Individual store prices may vary.
Description
A Kim Dower poem is a portal to a haunting universe of everyday life wrapped into poetic reverie. Lost languages, locomotives pummeling through dreams, taxi drivers thrown by the earth's rotation, shadows in closets, vanishing carrots, men who exfoliate—all come together in this opus of shining and startling wisdom.  At once rhapsodic, edgy and sensual.
About the Author
Kim (Freilich) Dower grew up in New York on the Upper West Side of Manhattan and received a BFA in Creative Writing from Emerson College in Boston.Upon graduating, Kim stayed at Emerson where she taught Introduction to Creative Writing: Poetry for two years before moving to Los Angeles where she pursued other writing projects and began her own literary publicity company called Kim-from-L.A., the name for which she has become famous in the world of book publishing.A few years ago, like magic, like a dream, poetry re-entered her life and the poems have been rushing out as if a 25 year dam had broken, and she s been writing three or more poems a week.Kim s work has appeared in Ploughshares, The Seneca Review, and in the on-line video magazine, Guerilla Reads.She lives with her family in West Hollywood, California."
Praise For Air Kissing on Mars…
"Sometimes miracles happen: a gifted, already accomplished young poet puts away her poems for years, even decades, and then the poems begin to pour forth again--tumultuous, wild with poetry's particular fever (the Russians call it Nightingale Fever.) But, but, sometimes--tempered by a rich inner life, fed by wisdom and knowledge one gets walking up and down upon the earth with all of one's senses fully alert, tempered by years of caring for others-- sometimes, this fever can turn into art, as it has here, in poem after poem. This combination: a crazy young poet and a grown-up (still a little bit crazy) poet makes a rare and astonishing first book, which is more like a seventh or eight book! As aforementioned: it's a kind of miracle, I tell you, a kind of miracle!" 

—Thomas Lux
 
"Kim Dower writes jazzy, sassy, sexy poems that move fast, are full of surprise and tweak the heartstrings like Arkhipovsky tweaks the balalaika."

—Stephen Dobyns
"Kim Dower's poetry is absolutely charming and compelling. She combines humor and heartbreak, while exploring the personal and universal.  Her poems are both accessible and profound.  What I love most is that the poet herself is so present in her images and emotions.  What a big, beautiful, generous, and funny heart she has!"

—Lisa See
 
"Air Kissing on Mars is the real thing —a real book by a real poet."

—Erica Jong