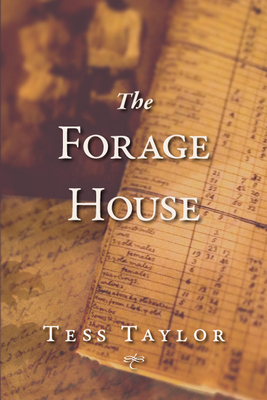 The Forage House
Paperback

* Individual store prices may vary.
Description
Attic boxes full of shards. Family stories full of secrets. A grandchild wondering what to save and what to throw away seeks to make sense of what it means to inherit anything at all. In The Forage House, the speaker unravels a rich and troubling history. Some of her ancestors were the Randolph Jeffersons, one of Virginia's most prominent slaveholding families. Some were New England missionaries. Some were dirt-poor Appalachians. And one was the brilliant, controversial Thomas Jefferson. Shuttling between legend and story, history and family tale, these poems visit cluttered attics, torn wills, and marked and unmarked graves. Working alongside historians and archaeologists, Taylor unearths buttons, pipes, and the accidental rubble of a busy state building its new freeway. Based in years of research and travel, these poems form a kind of lyric journalism, collaged from tantalizing fragments. Moving between past and present, East and West, they reveal an uneasy genealogist struggling with ambiguous legacies. The poems ask how fragments exert force now. They dance between inheritance and loss, reimagining "illuminating lies." In their hunger to assemble and remember, they also forge a new record of struggle and love: "how much I wish for will not be recorded."
Praise For The Forage House…
"Tess Taylor's The Forage House is a brave and compelling collection that bears witness to the journey of historical discovery. Sifting through archives, artifact, and souvenir, Taylor presents a dialectic of what's recorded and what's not, unearthing the traces that give way to her own history—and a vital link to our shared American past. What's here and accounted for draws us powerfully toward what's absent; what seems complete here never is—something as fragmented as history in the language, as haunted too."
—Natasha Trethewey

"Ezra Pound's definition of the epic—'A poem containing history'—demands courage and intellectual range, as well as lyrical gifts. Tess Taylor meets that challenge in The Forage House. A figure of epic scale, Taylor's Thomas Jefferson is tragic as well: 'ambitious foundering father.' The poise, candor and reach of this book—with a vision that embraces the enigmas of contemporary El Cerrito along with those of the slave-owner Jefferson—are deeply impressive."
—Robert Pinsky

"Document-gatherer, exorcist, mourner, pack-rat, and celebrant—Tess Taylor orients herself within her family's history of slave-owning in Virginia, their missionary zeal in India, and their displacement to California. A mini-history of our nation, her ambitious poems ignite fact into lyric flash as she implores her ancestors 'to explain / their America, their prodigal / half-remembered, always present pain.' The Forage House is a book of conscience and sensuous reckoning."
—Rosanna Warren
 
"In Tess Taylor's collection of poetry, American history is a garment woven from tattered bits of family lore and large swaths of imaginative inlays, so that which shines most is a spun strand of stunningly rich language."
—Major Jackson

"Tess Taylor's
The Forage House
is, among other things, a tribute to the human capacity to perceive the objects of one's attention—one's surroundings, things at hand, and even oneself—not merely as they appear in the present, but also as products of, and with, particular histories. These histories can never be retrieved in their entirety, much less with perfect certainty, and what we discover of them might turn out to be difficult to accept. Nonetheless, the sense that we live "haunted by remains" should be cultivated and celebrated as a redeeming human trait, one that will serve not only to fortify our grasp of the present, but also our commitment to the future. Few books in recent memory have taken up that task as scrupulously and artfully as this one."—Timothy Donnelly
Red Hen Press, 9781597092708, 88pp.
Publication Date: August 20, 2013
About the Author
Tess Taylor has received writing fellowships from Amherst College, the American Antiquarian Society, the Berkshire Taconic Community Foundation, the International Center for Jefferson Studies, the Headlands Center for the Arts, and the MacDowell Colony. She holds graduate degrees in writing from New York University and Boston University. Her chapbook, The Misremembered World, was selected by Eavan Boland and published by the Poetry Society of America, and her poetry and nonfiction have appeared in The Atlantic, Boston Review, Harvard Review, Literary Imagination, The Times Literary Supplement, and The New Yorker. She currently reviews poetry for NPR's All Things Considered and teaches writing at the University of California, Berkeley. She lives in El Cerrito, California.