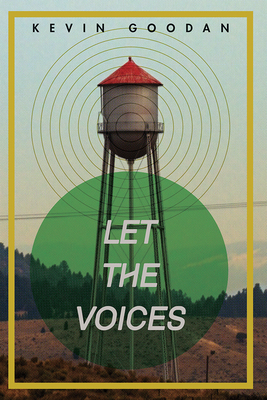 Let the Voices (Paperback)
Red Hen Press, 9781597093095, 64pp.
Publication Date: April 20, 2016
* Individual store prices may vary.
Description
Let the Voices is a book about the uneasiness of living with those whose lives have been cut short by the violence of poverty. Set in a trailer park on the Flathead Indian Reservation in western Montana, the speaker in these poems gives voice to childhood companions often hungry, both literally and figuratively, for a kind of salvation. In a splicing of lyric and narrative vignettes language becomes both subject and catalyst for recovering one's voice in a negligent world.
About the Author
Kevin Goodan was raised on the Flathead Indian Reservation in western Montana, and fought forest fires for ten seasons with the USFS. He is the author of In The Ghost-House Acquainted, Winter Tenor, Upper Level Disturbances and several chapbooks. Kevin resides with his wife and son on the Palouse Prairie outside Moscow, Idaho, and is Associate Professor of English at Lewis-Clark State College.
Praise For Let the Voices…
"When a poet of considerable lyric acumen such as Kevin Goodan allows such gifts to thread his narrative—think of Charles Wright's backyard precision hybridized with the sweeping but urgent grace of late Larry Levis—the results are game-changing and visionary. Goodan's poetic, its courageous posture, is at once utterly fearless and yet open as a vessel. Lucid, limpid, deft, these poems give voice to the cloistered, the shunt away, reminding us of how available and elemental memory's voices remain. Let this book, then, serve as palpable reminder of Kevin Goodan's lasting and essential presence in our poetry."
—Chris Dombrowski, author of Earth Again
"The beauty of these poems is that of sunlight glinting off broken glass, just before their green shimmering's trodden to dust, the lilting laugh we don't know is a loved one's last, till we're left alone with memory. As the speaker's haunted by voices of his wounded and dead, so too, am I, hearing my voices calling through his, but Kevin Goodan bestows a last gift, lighting the way to grace through surrender, letting the voices, and singing us home."
—April Ossmann
"In a trailer park choked by pesticides from crop dusters, kids turn alcoholic before they get out of junior high. Kevin Goodan grew up with these kids, hears their voices, and sings elegies for those who die far too young. These poems praise harsh and vibrant lives as if 'heaven were a place inside / that shone out from everywhere / we were broken.' Radiant, these poems, full of exuberant violent tragic living."
—Peggy Shumaker, author of Gnawed Bones