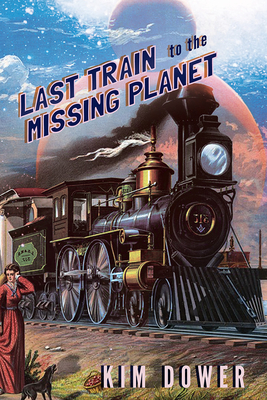 Last Train to the Missing Planet
Paperback

* Individual store prices may vary.
Description
Acclaimed for combining the accessible and profound, Kim Dower's poetry has been described by The Los Angeles Times as "Sensual and evocative . . . seamlessly combining humor and heartache," and by O Magazine as "unexpected and sublime." Her third collection, Last Train to the Missing Planet, rockets forward in this trajectory, taking us on a journey to places we've often visited but never seen. Buy a ticket and hop aboard: experience love, longing, and passion tipped sideways; irreverent, touching, and disarmingly sexy as illuminated by an original and brilliant light. Lose yourself in the unexplored sensations of the ordinary in this engaging year of moments, both comforting and terrifying—and always extraordinary.
Praise For Last Train to the Missing Planet…
"These poems speak in the voice of an old, trusted friend who knows you, who has come to visit and remind you of who you are and what a life is all about. They speak not of the highs and lows, but about the grey space between tragedy and tenderness, memory and loss, fragility and perseverance—that space where the soul and the truest self live."
—Richard Blanco, Presidential Inaugural Poet
"What a pleasure it is to settle into Kim Dower's latest collection. Dower's poetry creates a quiet space around itself, full of worldly, humorous insights into life as it is."
—Janet Fitch
In her third collection (after Slice of Moon), Dower invests the most ordinary moments with a significance that doesn't feel strained. "Dawn cracks me open like a clam," she proclaims in "Another Morning. "Am I alone/ pretending it's you pushing me// out of sleep, or us together, a team half waking." And when the situation turns serious, she doesn't become grim but reveals the passion that underpins many of her poems: "From our kisses, obliterate it with desire," she says of the end of the world, "…locked in an emergency embrace." A poem on natural disasters concedes that "life changing decisions will be made" yet ends, "it's only a cleansing for the paradise that can lie ahead," and many of the poems resonate with that same determined energy. Dower paints scenes nicely ("Santa Ana winds lifting bones from the earth"), and even an encounter with a raccoon on a Los Angeles byway is invested with magic, as the speaker imagines the creature a cursed prince or princess looking for someone to break the spell. VERDICT: Throughout, Dower maintains a fine level of craft and reverberant feeling. A satisfying collection for most readers.

—Barbara Hoffert, Library Journal
Red Hen Press, 9781597093538, 144pp.
Publication Date: March 29, 2016
About the Author
Kim (Freilich) Dowerwas born and raised in New York City and received a BFA in Creative Writing from Emerson College, where she also taught creative writing. Her first collection of poetry, Air Kissing on Mars (Red Hen Press, 2010), was on the Poetry Foundation's Contemporary Best Sellers list, and her second, Slice of Moon (Red Hen Press, 2013), was nominated for a Pushcart Prize. Her work has been featured in Garrison Keillor's "The Writer's Almanac," and Ted Kooser's "American Life in Poetry," as well as in Barrow Street, Eclipse, The Los Angeles Review, Ploughshares, Rattle, and the anthology Wide Awake: Poets of Los Angeles and Beyond (Beyond Baroque Books / Pacific Coast Poetry Series, 2015). The founder of the Literary Publicity Company, Kim-from-L.A., she lives in West Hollywood, California.