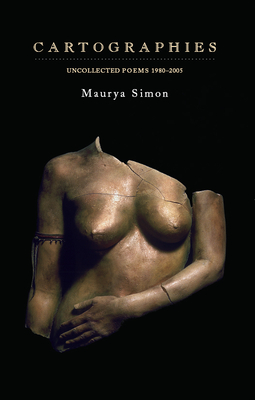 Cartographies
Paperback

* Individual store prices may vary.
Description
The poems in Cartographies travel new territory, exploring the heart's changeable cartography and the soul's uneven terrain. They map the familiar, and always complex world of the San Gabriel Mountains, as well as nearby Los Angeles, with its cultural richness and social/political tensions. Divided into four sections—The Soul, The Self, Mountains, The City—Cartographies investigates our profound relationships with time, nature, love, and death.
Simon finds meaning in unexpected locales, from the "Rorschach" on a butterfly's wings to a barrio bakery, and in the briefest of moments, evoked by the plaintive voice of a spider, or provoked by a breathless escape from an avalanche. These poems record the paradoxes present in our daily lives, those interstices of yearning and mourning or fear and celebration that reveal the deep wells and turbulence of human consciousness. Simon apprehends the elegiac within the purest moments of joy, and intimates catharsis within despair. She opens the mind's windows to small miracles provoked by the barest glimmers of wonder and hope.
Praise For Cartographies…
Cartographies is a read for anyone who loves poetry. You can love its carefully poised outsailings or its nimble shape or buoyant, zesty voice that's enthusiastically into everything. I love it for the poet who writes wonderfully about dogs, about a tricky sister, about Burt Reynolds in the mall, about the Kuwaiti Zoo, all of which seems to support her saying "I do not like to think about my life." These poems make me think I'd like to go to dinner with their author. Who wouldn't? The art here is in making a life luminous.
—Dave Smith
Maurya Simon is tenacious in her struggle to comprehend the paths we travel between keening and dancing in a dangerous world. When her language does both, keen and dance, the results are beautifully urgent.
—Dorothy Barresi, The Gettysburg Review
Simon tries to see through things, as if they were composed of light rather than matter. And her vision leads the reader into a world rendered luminous, its radiance sharply, almost painfully defined.  [Her] gospel is that everything—animate or inanimate—is potentially treasure.
—Alice Fulton, Poetry
Red Hen Press, 9781597093873, 104pp.
Publication Date: September 1, 2008
About the Author
Maurya Simon is the author of
The Enchanted Room
and
Days of Awe
(Copper Canyon Press, 1986, 1989),
Speaking in Tongues
(Gibbs Smith, 1990), which was nominated for a Pulitzer Prize, and
The Golden Labyrinth
(University of Missouri Press, 1995). A fifth volume,
A Brief History of Punctuation
, was published in a limited edition by the fine letter-press book publisher, Sutton Hoo Press, in 2002. Simon's sixth volume,
Ghost Orchid
(Red Hen Press, 2004) was nominated for a 2004 National Book Award in Poetry. Another limited edition, letter-press collection of ekphrastic poems,
WEAVERS
, based on the paintings of Los Angeles artist Baila Goldenthal, was published by Blackbird Press in 2005. "Tamar," an opera based on Simon's eponymous verse libretto, premiered at the University of Rhode Island in the Spring 2007.Simon has been the recipient of a 2002 and 2007 Visiting Artist Fellowship from the American Academy in Rome, a 1999-2000 NEA Fellowship in poetry, a University Award from the Academy of American Poets, the Celia B. Wagner and Lucille Medwick Memorial Awards from the Poetry Society of America, and a Fulbright/Indo-American Fellowship in Bangalore, South India. She also has been a fellow at Hawthornden Castle in Edinburgh, Scotland, and at the Baltic Centre for Writers and Translators in Visby, Sweden, as well as a lecturer at Lund University in Sweden. Her poetry has been translated into French, Rumanian, Bengali, Spanish, and Farsi.
Maurya Simon teaches in the Creative Writing Department at the University of California, Riverside. She lives in the Angeles National Forest of the San Gabriel Mountains, in Southern California.
or
Not Currently Available for Direct Purchase