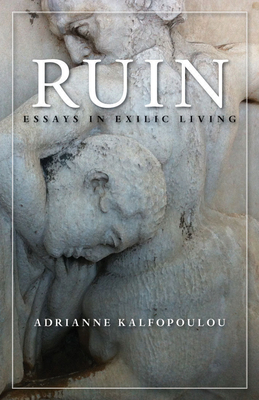 Ruin (Paperback)
Essays in Exilic Living
Red Hen Press, 9781597095372, 208pp.
Publication Date: September 9, 2014
* Individual store prices may vary.
Description
The essays in Ruin link meditations on teaching, friendship, motherhood, love, the financial meltdown in Greece, the shared language of politics and advertising, Occupy Wall Street, and the Parthenon Marbles into a relentless interrogation of identity and loss. Kalfopoulou's Athens and New York are twinned sites of perpetual dislocation, palimpsests of political, economic, cultural—and personal—crisis. The refugee, the immigrant, the fragmented 'I' charted in these essays—all are studies in exilic living, pilgrims wandering the wreckage of late capitalism.

About the Author
Adrianne Kalfopoulou is Associate Professor of Language and Literature at Hellenic American University in Athens, Greece. She is the author of two poetry collections, Wild Greens and Passion Maps, both from Red Hen Press. Her poems and essays have appeared in Hotel Amerika, Essays & Fictions, Room Magazine, Fogged Clarity, The Broome Street Review and Spoon River Poetry Review. She has taught creative writing and literature in the Creative Writing Program at New York University and at the University of Freiburg.

Praise For Ruin: Essays in Exilic Living…
"In Adrianne Kalfopoulou's brilliant book of essays, Ruin, we accompany her on the pitted road of motherhood, friendship, love, the financial meltdown of Greece—and, centrally, the pilgrim's journey into memory. Kalfopoulou's mediations are more politically incisive than any other book of personal essays I've read in ages. Her self-possession and attention to suffering and her pitch of self-questioning are sharp and rare. As with the finest essayists, she is 'like pagans respectful of what the unpredictable might have in store for us.' But never too respectful. 'I am a reluctant traveler,' she tells us, but in her company, we never are."
—David Lazar, author of Occasional Desire
 
"Balancing along the boundary that separates memoir, travel writing, and journalism, Adrianne Kalfopoulou's book of linked essays, Ruin, courageously explores not only cities (Athens, New York, Freiburg, among others) but states of mind and soul in a pulsing, fraying time. Kalfopoulou's writing draws us into her sensibility; reading Ruin, we share her honesty and anger, her vulnerability and nerve, her sense of humor and beauty. Not a relaxing read, Ruin is always stimulating, mercurial, and enlightening."
—Rachel Hadas, author of The Golden Road
 
"Ruin: Essays in Exilic Life is a palimpsest of cultural and personal crisis moments. Throughout, an inner yearning for identity is interwoven with erudite critical contemplation of issues of nation and belonging. The minutiae of daily life relentlessly engage the political moment. Whether in a Korean nail parlor in post-9/11 New York City, in Freiburg in the summer, or on the streets of Athens in the midst of the 'bail out' plan; whether, too, the subject is eros, motherhood, the premature death of a friend or the more mundane tribulations of teaching, Kalfopoulou plots locations of a binational self-in-crisis in tandem with those of a fluid body politic."
—Alexandra Halkias, author of The Empty Cradle of Democracy