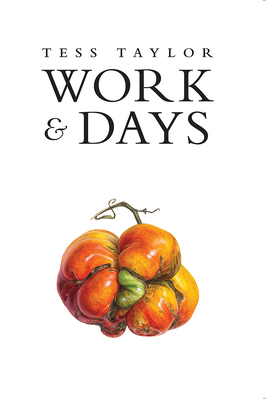 Work and Days
Paperback

* Individual store prices may vary.
Description
In 2010, Tess Taylor was awarded the Amy Clampitt Fellowship. Her prize: A rent-free year in a cottage in the Berkshires, where she could finish a first book. But Taylor—outside the city for the first time in nearly a decade, and trying to conceive her first child—found herself alone. To break up her days, she began to intern on a small farm, planting leeks, turning compost, and weeding kale. In this calendric cycle of 28 poems, Taylor describes the work of this year, considering what attending to vegetables on a small field might achieve now. Against a backdrop of drone strikes, "methamphetamine and global economic crisis," these poems embark on a rich exploration of season, self, food, and place. Threading through the farm poets—Hesiod, Virgil, and John Clare—Taylor revisits the project of small scale farming at the troubled beginning of the 21st century. In poems full of bounty, loss and the mysteries of the body, Taylor offers a rich, severe, memorable meditation about what it means to try to connect our bodies and our time on earth.
Praise For Work and Days…
"Tess Taylor's second book of poems offers a series of deliberate lyrics, lyrics as deliberations—tendings and attendings in a Hesiodic and Virgilian key: 'here I work a plot that also grounds.' This is a book both grounded and worldly, alert to the smallest pecks a bird might make and to the drones and bombs the US dispatches in the names of its citizens. The shape of a day, a year, a life; the press of mortality; the clutch of soil; the specific angles of light in each season: Work and Days takes the measure of a contemporary life anchoring itself, provisionally, in a farming year. The beauty here co-exists with rot, ripeness with blight. This is a severe, attentive book, paradoxically lush in its very stringencies. Despite all, 'a throaty world sings ripen.'"
—Maureen McLane
Red Hen Press, 9781597097321, 72pp.
Publication Date: April 8, 2016
About the Author
Tess Taylor grew up in Berkeley, California, where she led youth garden programming at the Berkeley Youth Alternatives Community Garden and interned in the kitchen at Chez Panisse. In her twenties, she dropped out of Amherst College to become a translator and chef's assistant at L'Ecole Ritz Escoffier in Paris. An avid gardener and cook, she is also an acclaimed poet. Her chapbook The Misremembered World was selected by Eavan Boland and published by the Poetry Society of America. Her work has appeared in The Atlantic, Boston Review, Harvard Review, The Times Literary Supplement, and The New Yorker. The San Francisco Chronicle called her first book, The Forage House, "stunning" and it was a finalist for the Believer Poetry Award. Tess is currently the on air poetry reviewer for NPR's All Things Considered, and was most recently visiting professor of English and creative writing at Whittier College.