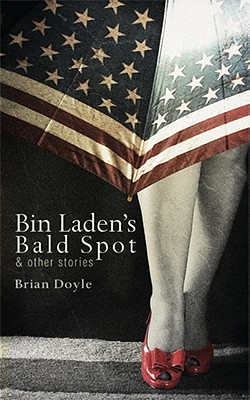 Bin Laden's Bald Spot
& Other Stories
Paperback

* Individual store prices may vary.
Description
Welcome to the peculiar and headlong world of Brian Doyle's fiction, where the odd is happening all the time, reported upon by characters of every sort and stripe. Swirling voices and skeins of story, laughter and rage, ferocious attention to detail and sweeping nuttiness, tears and chortling—these stories will remind readers of the late giant David Foster Wallace, in their straightforward accounts of anything-but-straightforward events; of modern short story pioneer Raymond Carver, a bit, in their blunt, unadorned dialogue; and of Julia Whitty, a bit, in their willingness to believe what is happening, even if it absolutely shouldn't be.
Funny, piercing, unique, memorable, this is a collection of stories readers will find nearly impossible to forget:
... The barber who shaves the heads of the thugs in Bin Laden's cave tells cheerful stories of life with the preening video-obsessed leader, who has a bald spot shaped just like Iceland.
... A husband gathers all of his wife's previous boyfriends for a long day on a winery-touring bus.
... A teenage boy drives off into the sunset with his troubled sister's small daughters…and the loser husband locked in the trunk of the car.
... The late Joseph Kennedy pours out his heart to a golf-course bartender moments before the stroke that silenced him forever.
… A man digging in his garden finds a brand-new baby boy, still alive, and has a chat with the teenage neighbor girl whose son it is.
... A man born on a Greyhound bus eventually buys the entire Greyhound Bus Company and revolutionizes Western civilization.
... A mountainous bishop dies and the counting of the various keys to his house turns… tense.
... A man discovers his wife having an affair, takes up running to grapple with his emotions, and discovers everyone else on the road is a cuckold too.
And many others.
Praise For Bin Laden's Bald Spot: & Other Stories…
"Virginia Woolf addressed what she called the Common Reader—Brian Doyle doesn't have any of those. His readers turn instantly and preternaturally uncommon, seeing and feeling and noticing and knowing what they have never before taken in: a kind of laughing piercing antic holiness. To read Brian Doyle is to apprehend, all at once, the force that drives Mark Twain, and Walt Whitman, and James Joyce, and Emily Dickinson, and Francis of Assisi, and Jonah under his gourd. Brian Doyle is an extraordinary writer whose tales will endure. The sublime 'Waking the Bishop' is going to inhabit American anthologies forever and ever."
—Cynthia Ozick
"Brian Doyle has a fine quick mind alert for anomaly and quirk-none of them beyond his agile pen."
—Peter Matthiessen
"No one writes prose with the verve and honesty, the gusto and wit of Brian Doyle."
—Pattiann Rogers
"Some people can write. Some people can feel. Brian Doyle, born with a silver tongue and a big heart, is among the lucky few who can do both."
—Anne Fadiman
"What I like about Brian Doyle's writing is that it's real—it's got mud and blood and tears but it's also got earthly angels who teach him to grasp on to each small epiphany as it opens before him."
—Martin Flanagan
"Brian Doyle's writing is driven by his passion for the human, touchable, daily life, and equally for the untouchable mystery of all else… his gratitude, his sweet lyrical reaching, is a gift to us all."
—Mary Oliver
Red Hen Press, 9781597099158, 160pp.
Publication Date: October 1, 2011
About the Author
Brian Doyle is the editor of Portland Magazine at the University of Portland, in Oregon—the best university magazine in America, according to Newsweek, and "the best spiritual magazine in the country," according to Annie Dillard.

Doyle is the author of ten previous books: five collections of essays, two nonfiction books (The Grail, about a year in an Oregon vineyard, and The Wet Engine, about the "muddles & musics of the heart"), two collections of short prose, and the sprawling novel Mink River, which Publishers Weekly called an "original, postmodern, shimmering tapestry of smalltown life."

Doyle is a four-time finalist for the Oregon Book Award, and his essays have appeared in The Atlantic Monthly, Harper's, Orion,The American Scholar, and in newspapers and magazines around the world. His essays have also been reprinted in the annual Best American Essays, Best American Science & Nature Writing, and Best American Spiritual Writing anthologies. Among various honors for his work are a Catholic Book Award, two Pushcart Prizes, and a 2008 Award in Literature from the American Academy of Arts and Letters.

He once made the all-star team in a Boston men's basketball league, and that was a really tough league. He lives near Portland, Oregon with his wife and children.
 
or
Not Currently Available for Direct Purchase