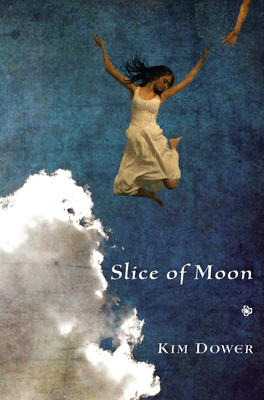 Slice of Moon
Paperback

* Individual store prices may vary.
Description
Slice of Moon, the second collection by Kim Dower, retains the whimsical, accessible style of her debut, Air Kissing on Mars, while reaching deeper, with greater lyrical intensity, irony, and poignancy.
Praise For Slice of Moon…
"Poetry set in the dressing room of Loehmann's or inspired by a school cafeteria menu: unexpected and sublime."
—O, The Oprah Magazine

"Dower (Air Kissing on Mars) returns after a break from publishing with these mostly narrative poems that mine detail with a whimsy bordering on hysteria. In this collection, the speaker manages to squirt too much mustard on her hotdog, have a huge tooth pulled ('extracting my brain, forcing every thought/ I ever had out of my head'), and buy an iPhone with an app that lets users go back to pioneer life in 1872 ('my girls tug at my berry-stained apron—mom, let's bake—in my real world I didn't bake/ but with this app I can'). She tells us what a boyfriend likes in bed ('my other girlfriend lets me') and why a girlfriend prefers sex with skinny guys. But a serious thread runs through these poems: caring for a mother who has dementia. And tucked in also are quiet poems from another place—a short lyric about the Santa Ana wind with a tender ending and a vivid recollection of a now deceased high school boyfriend, a moving blend of sexual experimentation and loss."
—Library Journal
 
"The poems are bold and sexy and smart."
—Stephen Dunn, Pulitzer Prize-winning poet 
"Slice of Moon is a dark chocolate fever dream of love, of mothers. Kim Dower dares you into the dark. You may find yourself lurking there."
—Erica Jong
 "Kim Dower's remarkable first book, Air Kissing on Mars, was on fire. Slice of Moon burns even hotter, its flames rising even higher."
—Thomas Lux
Red Hen Press, 9781597099714, 104pp.
Publication Date: October 1, 2013
About the Author
Kim (Freilich) Dower grew up in New York City and received a BFA in Creative Writing from Emerson College, where she also taught creative writing. Her first collection, Air Kissing on Mars was published by Red Hen Press in 2010 and appeared on the Poetry Foundation's Contemporary Best-Sellers list. The book was described by The Los Angeles Times as, "sensual and evocative . . . seamlessly combining humor and heartache." Kim teaches in the BA Program at Antioch University Los Angeles, and is the owner of a literary publicity company called Kim-from-L.A. Her poems have appeared in Ploughshares, The Seneca Review, Rattle, Barrow Street, Eclipse, and Two Hawks Quarterly. Two of the poems in Slice of Moon were finalists for the Rattle Poetry Prize. She is also a nominee for the Pushcart Prize. She lives with her family in West Hollywood, California.