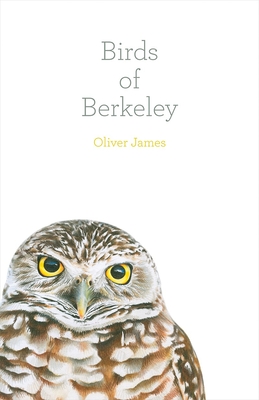 Birds of Berkeley
Hardcover

* Individual store prices may vary.
Description
This charming, full-color field guide to 25 birds easily found in Berkeley proves that even the city's avian residents are a little quirky. Meticulously detailed illustrations capture each bird's distinctive physicality and temperament. A Burrowing Owl faces you in a full-on head shot, perhaps having just raised its raspy, chattering alarm call as you trespass on its last remaining Bay Area foothold at the Marina. The Anna's Hummingbird gives you a coy backward glance to assess if you've properly admired its flashy throat feathers, maybe having just performed its signature J-shaped courtship dive. Even in composition, each bird is strikingly individual, whether depicted in mid-dive or creeping into frame. While descriptions of identification and vocalizations are straightforward, author-illustrator Oliver James takes a delightfully creative approach to his write-ups of each species. He invites you to imagine that a Cooper's Hawk, for example, is Steve McQueen in a '68 Mustang, and you, "a pigeon in a rental car with a poor turning radius," are fleeing through traffic: "It's all over in a matter of seconds." A joy to read and pore over, Birds of Berkeley will enchant readers far beyond the city limits with its findings gleaned from painstaking and patient wildlife observation.
Heyday Books, 9781597144070, 80pp.
Publication Date: February 1, 2018