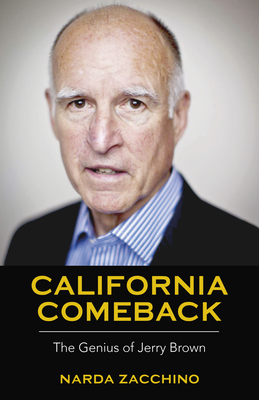 California Comeback (Paperback)
The Genius of Jerry Brown
Heyday Books, 9781597144506, 344pp.
Publication Date: January 20, 2018
Other Editions of This Title:
Hardcover (8/16/2016)
* Individual store prices may vary.
Description
How did a so-called "failed state" manage to revitalize itself as a socioeconomic superpower in just five years? In California Comeback, award-winning journalist Narda Zacchino credits four-term governor Edmund G. (Jerry) Brown and his progressive policies with the Golden State's return from the brink of economic collapse. Although California has a reputation for left-leaning ideology, Brown's first stint as governor in the 1970s and early '80s ushered in an era of conservatism bulwarked by Proposition 13. California drifted stutteringly rightward, and when Brown took office again in 2011, the state was teetering under a $27 billion deficit. By raising taxes on the wealthy while imposing rigorous environmental protections and humane immigration policies, Brown led California to adopt a different model, one in which fiscally sound government and social liberalism were status quo--and one in which California could outperform the rest of the nation. This book gives a resounding answer to the question of how a multicultural, democratic, and postindustrial society endures in the face of devastation.