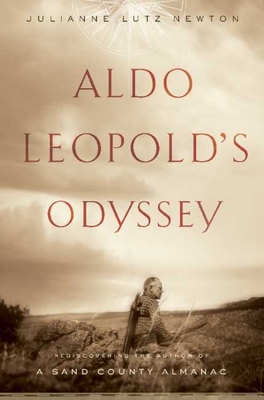 Aldo Leopold's Odyssey (Hardcover)
Rediscovering the Author of A Sand County Almanac
Island Press, 9781597260459, 504pp.
Publication Date: November 1, 2006
Other Editions of This Title:
Paperback (2/22/2008)
* Individual store prices may vary.
Praise For Aldo Leopold's Odyssey: Rediscovering the Author of A Sand County Almanac…
"In Aldo Leopold's Odyssey, her new study of Leopold's intellect ual evolution, Julianne Lutz Newton makes us feel the loss of what might have followed A Sand County Almanac by showing us in authoritative detail what led up to it. The result is a biography of ideas, a map of how far Leopold had moved between 1909…and his death…"
— New York Times Book Review
"Aldo Leopold's Odyssey discovers new and vital meaning in the words and deeds of one of environmentalism's great prophets. A crucial book for our time!"
— Bill McKibben, author of "The End of Nature" and "Deep Economy"
"This book provides an excellent guide to the most important conservationist thinker that we have had. It belongs on the shelf of indispensable works for understanding Leopold and for building on his legacy."
— Donald Worster, author of "A River Running West: The Life of John Wesley Powell"
"With her warm, engaging prose, Julianne Lutz Newton brings us a deeper understanding of Leopold's intellectual journey, and the lessons from the land that shaped his thinking. She skillfully weaves his insights into the cultural context of the time and the evolving consciousness of our responsibilities to the places that sustain us."
— Robin Wall Kimmerer, author of "Gathering Moss"
"Across a lifetime of study, advocacy, teaching, and writing, Aldo Leopold devoted himself to understanding and enriching the relationship between people and land. With a keen eye for historical context and contemporary influences, Julianne Lutz Newton explores important new dimensions of Leopold's experience. Her vivid narrative—equal parts history of science, intellectual biography, and environmental history—reveals what Leopold once called the 'authentic human drama' of conservation. As that drama continues to unfold, Newton has provided a compelling account of Leopold's essential role in defining its tensions and deepening its meaning."
— Curt Meine, author of "Aldo Leopold: His Life and Work" and "Correction Lines"
"Though Julianne Lutz Newton's new book about Aldo Leopold is described as a biography, it is much more than that...Aldo Leopold's Odyssey fits Leopold into the larger tradition of American environmentalism, and shows him to be an essential part of its development... an invaluable look into Leopold's personal and professional life."
— Isle
or
Not Currently Available for Direct Purchase